2013 Annual Review
A Report for Family and Friends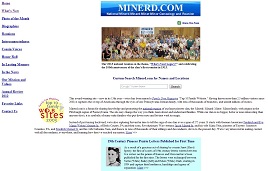 Minerd.com homepage -- January 2014
The numbers -- and the tales -- tell the story.
Minerd.com plowed ahead in 2013 with deliberate, unrelenting research and execution to publishing all new stories and images for the benefit of our traditional and new audiences numbering in the many thousands of cousins and like-minded friends.
This month, in January 2014, Minerd.com should reach a landmark when an unwitting visitor becomes its 2.5 millionth guest.
The Numbers in 2013
250,992 visits
20,916 visits per month
944 new images
70+ reunion attendees
46 new biographies
14 Civil War veterans
12 photos of the month
4 news stories
3 research trips
1 new book
The site -- twice named one of the top 10 family websites in the nation by Family Tree Magazine -- will celebrate its 14th year online on May 7, 2014.
The free encyclopedic site now features 1,490 biographies, with 46 new bios added last year, and 11,544 images, with 944 added during the year, a singular archival collection about one Southwestern Pennsylvania family found nowhere else. Hundreds of other pages were created, updated or expanded with significant new facts, stories and images.
In 2013, Minerd.com received 250,992 visits, an increase of 3.2 percent from 242,754 in 2012. This translates into an average of 20,916 visits per month, up from 20,238 in 2012.
Its proprietary content was freely shared for use by others for a wide variety of projects, such as newspaper feature stories, Find-A-Grave postings, private Ancestry.com pages and school research projects. Through the Minerd.com monthly e-newsletter and regular postings on Facebook, the site reaches thousands of cousins, friends and all-new followers on a regular basis.
During the year 2013, more than 65 cousins are known to have passed into eternity. For the span of time from July 1, 2000 (when we began counting officially) to Dec. 31, 2013, the total count of cousins lost was 1,083. The "In Lasting Memory" page is a running list of these names, linked to the Minerd.com biography of their branch, as a lasting tribute and as an ongoing reference.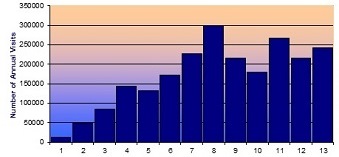 Number of annual visits since original launch in May 2000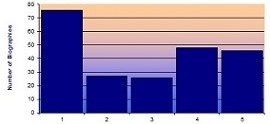 Number of new bios added: 2009-2013
The data suggest that we lose a cousin once every 4.87 days on average. The headcount of cousin mortalities and the frequency of deaths will only grow as more research is done and as more cousins and friends contact us with their personal family information.
Minerd.com expresses its appreciation to cousin Linda Marker for hosting the Younkin Reunion Pennsylvania page on Facebook, where much of the new Younkin material on Minerd.com is vetted with others for accuracy and completeness.
We also are grateful to cousin Irita (Goins) Canady, who hosts the sprawling private "Male, Mayle, Mayhle Family Suite" on MyFamily.com, and who graciously has allowed its vast archive of images to be used here as appropriate.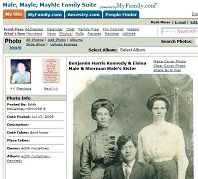 MyFamily.com page for the
Male, Mayle, Mayhle family
Thanks also are extended to the numerous sponsors of Find-A-Grave pages who also gave their consent for photographic images to be republished on this site, and who are acknowledged by name on the pages where the images are used.
Online research sites such as Ancestry.com, FamilySearch.org, FindAGrave.com, Google News, Google Books, GenealogyBank.com and ChroniclingAmerica.loc.gov provided enormous amounts of original, primary research material added to Minerd.com.
~ In the News ~
Minerd.com and its content continued to make news in 2013. The highlights include:
Sept. 24, 2013 - Minerd.com's "Photo of the Month" for September -- showing teacher Winifred Hart and her students in the 1920s at the one-room Majors School in Beaver County, PA -- is reprinted in the Beaver County Times' weekly "Vintage Views" feature, under the headline "Back to School."
June 29, 2013 - The Connellsville (PA) Daily Courier publishes a feature article about our recent national reunion, "Minerd Family Continues to Celebrate History." The piece pictures cousins Barbara (Holly) Minerd and Anita Snyder. It also mentions cousins Barbara (Minor) Adler of Florida and Terre Carson-Jones of Virginia who came to the reunion despite the fact that their ancestors left our region nearly two centuries ago.
~ Photo of the Month Recap ~
~ Travel and Research Focus ~
Three major areas of research focus in 2013 resulting from research trips by the founder. These included a tour of Berks and Carbon Counties, PA in April to learn more about early Pennsylvania German families of Meinert, Meinder and Miner; attending the national Junghen-Younkin reunion in Somerset County, PA in July, which resulted in the creation of 58 biographies of early pioneer Younkins who held close DNA inter-marriage ties to our family for more than two centuries; and a November visit to the National Archives in Washington, DC to personally examine the military and pension records of 14 Civil War soldiers in the clan.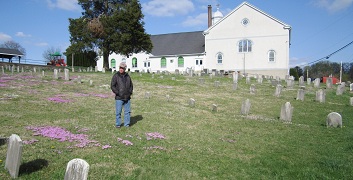 During an April trip to Berks County, cousin Eugene Podraza searches in vain for the grave of Borkhart Meinder, Christ (Mertz) Evangelical Lutheran Church Cemetery, Dryville
Pennsylvania German Origins in Berks and Carbon Counties, PA–the 21st annual research trip with cousin Eugene Podraza and the founder of this website, dating to 1991. The trip focused on the siblings of Revolutionary War patriot Jacob Minerd Sr., who remained behind in Berks County after Jacob migrated away in the 1880s. Among them were Jacob's brothers Burkhart Meinert I and Friedrich and Catherine (Neun) Meinder Jr. in addition to Friedrich's children Borkhart Meinder, Susan Sigfried, Sarah Friedrich and Friedrich Meinert (Frederick Miner) III.. Among the more interesting finds were: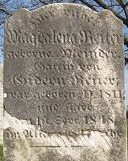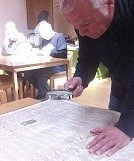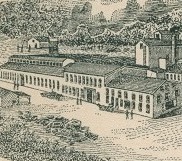 Left to right: German-script grave of Lena (Meinder) Reider, 1848; Eugene Podraza reads a family obit in the German Reading Adler newspaper, 1858; and the Mauch Chunk Iron Works, owned by Elias Miner during the Civil War era

Donna (Younkin) Logan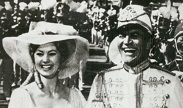 Shirley Jones with Robert
Preston in The Music Man
In Memory of Donna (Younkin) Logan – a lasting tribute to the exhaustive research of Donna (Younkin) Logan who passed away far too young in 2006. From the work that Donna and others such as the late Olive (Rowan) Duff conducted and widely shared, biographies were developed for a number of major family heads of Somerset County of the early 1880s and for 37 of their children. They include:
"Yankee John" Younkin - Charles Younkin - George Younken - John J. Younkin - and Frederick F. Younkin.
These bios also document extensive cousin inter-marriages between our Minerd-Miner family and the Younkins, a practice that was common and encouraged in the 19th and early 20th centuries.
One particularly fascinating body of work was developing the bio of Syvilla (Younkin) Rush, which documents the family connections to movie and television actress and singer Shirley Jones.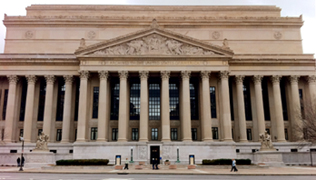 National Archives, Washington DC, where military and pension records for Civil War veterans are housed
Civil War Soldier Research at National Archives - during a November visit to Washington DC by this website's founder, records for the following soldiers were found, studied and copied at the National Archives, with findings added to Minerd.com:
~ Human Intererest Stories ~
~ National Reunion Focus on "Legacy" ~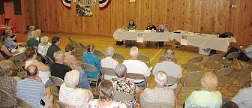 Reunion panel discussion on "legacy," 2013
Over the weekend of June 21-22-23, 2013, the Minerd-Minard-Miner-Minor family gathered at its national reunion to explore the theme of "What's Your Legacy?" in the written word, health/charity and prayer. We also celebrated the 100th anniversary of the first Minerd Reunion in Western Pennsylvania. More>>>
More than 70 cousins and family friends attended, representing 12 states and 22 Pennsylvania towns. Of the total, 20 guests were first-timers.
On Saturday, a panel discussion involved insightful comments from cousins Sandra (Alkula) Boda, Kathleen Kern and Richard A. "Rick" Minerd, who have authored books or specialize in scrapbooking and faithbooking.
On Sunday morning, June 23, 2013, a small group of seven cousins – having traveled from Ohio, Michigan, New York and Pennsylvania – gathered to pray for each other and agreed to pray for the family at large over the coming year. More>>>
We will meet again in June 2015 -- so watch for details.
~ A New Book: Forged in Steel ~
Authored by Pittsburgh Steelers color commentator Tunch Ilkin and leadership authority Damian W. Williams, Forged in Steel is a new book which I've published to help readers, as leaders in their organizations, communities and family, to tap into the seven enduring truths behind the well-honed values that make the Pittsburgh Steelers great. What does it mean to be forged in steel? For a leader truly wanting to embrace these values, it means the following:
Inspiring Standards – Identifying and living your values and mission establishes and sustains trust with those you lead.
Contagious Humility – Humility becomes contagious in your team, resulting in greater interdependence and teamwork.
Servant Leadership – You live to serve and add value to others, the only type of leadership that will bring out the best in others and consistently outperform other leadership styles.
Strategic Team Making – Your team has a plan for success — and is crystal clear about it.
Passionate Execution – Your team cares deeply about the game plan and will go the extra mile to execute it.
Continuous Improvement – You are willing to pay the price for excellence, will improve every day and never settle for mediocrity.
Mental Toughness – When things get hard, you have an integrity that chooses the right attitude in every situation and demonstrates the ability to bounce back.

Mark Miner
~ A Heart-felt Thank You! ~
Now into Minerd.com's 14th year online, this work continues to be fascinating, surprising, eye-opening and never ever dull. Thank you again to everyone who has contributed your special part from your own family's trove of family treasures. This site is for you, and would not be possible without you.
Sincerely,
Mark A. Miner
Founder, Minerd.com
January 2014