Home

2016 Annual Review
A Report for Family and Friends
Now in its 17th year online, Minerd.com continued to attract visits and publish the stories of thousands of forgotten lives in 2016 involving a frenetic pace of research, travel and writing. Not a week went by that meaningful content of some type was not added to the site.
Among the indicators are the number of biographies added or expanded during the year – the number of archival images posted – the number of cousin deaths recorded – and the number and variety of blog posts.
Last year, 17 new biographies were added – many so lengthy that they will be subdivided into new ones in 2017 – and many hundreds more bios expanded with new findings – bringing the total on the site to 1,610. Some 1, 034 images were added as illustrations, bringing the overall site-wide count to 14,541.

Minerd.com's Numbers in 2016
1,015
new images added

12
blog posts published

14,541
total images on the site

11
photos of the month

17
new biographies added

48
known cousin deaths in 2016

1,610
total bios on the site

1,629
known cousin deaths 2000-2016
In 2016, some 48 deaths were recorded for the year, and scores of deaths back-filled our records for earlier years. Since we began counting in earnest on July 1, 2000, the known number of deaths of cousins and spouses is 1,629, or one every 3.7 days. While many of these are related to old age or illness, some are in fact due to domestic violence and heroin addiction. In some periods of our heaviest losses, such as in the 2002-2003 timeframe, we lost a cousin/spouse once every 2.94 days. Future research will identify even more deaths which have occurred in 2000-2016.
All of this material has some connection with the Pennsylvania pioneer Minerd-Minard-Miner-Minor clan and its heavily interrelated German families of Pennsylvania, Ohio and West Virginia.
~ Travel ~
As always, the core focus of Minerd.com content is research-driven writing and sharing. During the year, I traveled to the following destinations to pursue that objective:
| | |
| --- | --- |
| | Morgantown, WV – March 29 – while on campus to lecture about my Pittsburgh Steelers book Forged in Steel, I used the opportunity to conduct obituary research at the West Virginia University Library and take photographs of the campus. |
| | Wheeling, WV – May 13 – conducted research in the Ohio County Courthouse and Ohio County Public Library in Wheeling, WV, focusing on the colonial German Earlywine family branches of Wheeling and Sand Hill, WV. |
| | New Brighton, PA – May 21 – attended the memorial service and burial of ashes of Joseph Warren Thomas III and his daughter Deborah Thomas at Grove Cemetery – of the family of Michael A. Firestone. Joe was an early research of the Younkin, Firestone, Nicola and Hartzell families in the 1970s and freely shared his research findings ane encouraged me to keep going. |
| | Elizabeth, WV – May 28 – attended the Mayle/ Holbert reunion at the suggestion of cousin Rhonda (Cook) Tabler – met many cousins for the first time – used the opportunity to photograph the Civil War grave of Daniel M. Pyles and his wife Sarah (Miller) Pyles at the remote, mountainous, abandoned Central Hill Baptist Church on the outskirts of town. |
| | Cutler, OH – May 30 – attended the Mayle reunion at the Cutler Community Center, also at the invitation of Rhonda (Cook) Tabler – met several cousins of the John Henry Kennedy and Ruth Ann [Mayle] Mayle branches originating in the Chestnut Ridge community of Philippi, WV. |
| | Somerset County, PA – July 2 – photographed 238 gravesites at 14 cemeteries in a single day in this epicenter of our family's growth and development since the 1790s – cemeteries included Comps, Cook, Emerick, Getz, Wellersburg Zion, Union/Meyersdale, Rockwood Odd Fellows, Paddytown Methodist, Ursina, Jersey, Ream, Kingwood Odd Fellows, Delilah Younkin/Hexebarger and New Centerville. |
| | Washington, DC – July 5-7 – National Archives – researched the original pension records of 42 Civil War and War of 1812 veterans in the extended family, bringing back some 1,000 hardcopies of vital documents about the soldiers' lives and hardships before and after their military service. |
| | Washington, DC – July 7 – visited Arlington National Cemetery – photographed the graves of these known cousins who rest there for eternity – Leland Alfred Younkin, Royal Clemuel and Olive D. Minard, Robert Leroy Echard and John Allen Younkin. |
| | Kingwood, PA – July 23 – at the annual Junghen-Younkin Reunion, led a tour of the Delilah Younkin, Old Bethel Church and Paddytown Methodist cemeteries in the morning and presented stories in the afternoon about the branches of descendants of Jacob and Salome (Weimer) Younkin Jr. |
| | Columbus, OH – Oct. 1 – presented to 100 attendees at the Experience Columbus annual family reunion planning seminar held at the Martin Luther King Jr. Arts Complex, on the topic of "How to Re-energize Your Reunion." |
~ Writing and Publishing ~
Other major research was conducted and published on a wide variety of topics. Perhaps the most emotionally moving new content added to the site was a collage of photographs and essay by cousin Linda Marker of Rockwood, PA, "A Mother's Lamentation Over the Heroin Overdose of a Beloved Step-son."
During the year, scores of cousins reached out to me to share knowledge and rare images of their immediate families. Eight in particular unselfishly provided extensive, detailed and encyclopedic material and need to be recognized here – Richard Rosswurm (branch of Emanuel and Elizabeth [Minerd] Krick) – Brent Lowell ( branches of Josiah J. Dull and John Dull) –Donald Kuhns Jr. (Annabelle [Trout] Hower) – Yvonne Bonnie (Blair) Morgan (Unknown Shelkey Faces album) -- Linda Marker (Jacob and Salome [Weimer] Younkin Jr.) -- Denny Shirer (Barbara [Minerd] Firestone) -- Mark Terry Youngkin (John Harrison and Eliza Jane [Coble] Youngkin) -- and Barb Nelson (Jacob and Ruth Ann [Adams] Minerd Sr.).
~ New & Expanded Features and Bios ~
Features

Braddock's Grave and Fort Necessity: Preserving Historic French & Indian War Landmarks in Southwestern Pennsylvania

The Much-Married Mayle-Minerd-Families of the Chestnut Ridge Community of West Virginia and Eastern Ohio

Honor Roll: 38 Wartime Military Casualties

Unknown Shelkey Faces - Photo Album

Missouri Pacific Lines Magazine - Edited by Edward H. McReynolds, Special Assistant to the President

Funeral of Civil War Veteran John V.S. Minerd, 1907 - Enlarged and Numbered

Younkin Feature Pages on Minerd.com

Younkin-Faidley Family Intermarriages

Delilah (Faidley) Younkin's Family Bible

A Mother's Lamentation Over the Heroin Overdose of a Beloved Step-son

'Burgh Nation: Pittsburgh's Enduring Legacy of Innovation

Younkin National Home-coming Reunion Archives: 1934 to 1941, Kingwood, PA

Tom Custer's Absent Legacy in American Pop Culture

Henry "K.O." Yutzy's Boxing Career

"Experiencing the Era Between 1930 and 1957 - Special Memories Not to Be Forgotten" - A Memoir by Odger "Wayne" Miner

Honor Roll: 44 Accidental Work Deaths in the Manufacturing, Mining and Metals Industries

Hartzell/Younkin Family Intermarriages

128 Civil War Soldiers in the Family

Select Biographies

Jacob and Sarah "Salome" (Weimer) Younkin Jr. of Somerset County, PA

Johann "Jacob" and Maria Catherine (Sowash) Gaumer Sr. of Somerset County, PA & Muskingum County, OH

Emanuel and Betsy (Minerd) Krick of Monroeville, IN

George and Catherine (Younkin) Firestone of Cranberry Glade, PA

James "William" and Lillie (Fordyce) Minerd of Warren, OH

Joseph and Margaret "Peggy" (Younkin) Pringey of Bruceton, WV

John and Elizabeth (Gaumer) Welker Sr. of Knox County, OH

Charles Gaumer and wives of Somerset County, PA

Daniel and Hannah (Baughman) Gaumer Sr. of Muskingum County, OH

Johann "Richard" and Mary Ann Gaumer of Somerset County, PA

Susanna (Gaumer) Sturtz Baughman of Muskingum & Knox Counties, OH

David and Catherine (Ream) Jennings of Ursina, PA & Tama, IA

James and Elizabeth (Younkin) Andrews of Milford, KS

Josiah and Elizabeth (Ross) Dull of Rockwell, IA

John Harrison and Eliza Jane (Coble) Youngkin of Carbondale, IL

John and Sarah (Saylor) Dull of Waterloo, IA

Daniel M. and Sarah (Miller) Pyles of Elizabeth, WV

Abraham Earlywine and Eva Catherine (Gasser) Sr. of Sand Hill, WV

David and Maria (Culver) Younkin of New Centerville, PA

Henry and Matilda (Morton) Miner of Zanesville, OH & Attica, IN
~ 2017 National Reunion -- "Selfies" ~
Who hasn't taken a "selfie" photo at one time or another? Seems like everyone everywhere has caught the popular craze. At our 2017 national Minard-Minerd-Miner-Minor family reunion, over the weekend of June 23-25, everyone will be engaged in creative selfie-taking and being part of our first-ever, historic national broadcast via Facebook Live. Most of the events will be held at the Days Inn Hotel in Donegal, PA, located just a few hundred yards from from Exit 91 of the Pennsylvania Turnpike and a two-hour drive from the Pittsburgh International Airport.What could be more fun?
Attendance has been spotty the past few years. We're hoping for a crowd of 75 to 100. If not, given the amount of work involved to make these every-other-year reunions happen, this could be our last one. Hope you can join us!
On Friday evening, we'll gather together for a group meal at a local restaurant. Afterward, we'll return to Days Inn to enjoy socializing in the lobby along with snacks and cold drinks.
If you want to stay overnight at Days Inn, the hotel has reserved 10 sleeping rooms for us at a discounted rate of $88 plus tax per night. Be sure to contact the hotel to reserve your room soon -- tell them you're with the "Minerd Reunion" -- as they're already becoming booked. Telephone 724.593.7536 - Email info@daysinndonegal.com -- or book online. All unsold rooms will be released to the public a month ahead of time.
Our traditional Saturday picnic will be held in the open air pavilion of the Days Inn. It will begin at 10 a.m. and conclude in late afternoon. Everyone's best selfie will be uploaded to a reunion selfie collage on our award-winning Minerd.com website for posterity. You'll have more than your 15 seconds of fame -- your legacy photo will live forever! At intervals during the afternoon, we'll broadcast the reunion on Facebook Live. Noon Meal - If you live nearby, please bring a meat dish, side dish or a dessert to share. We will provide cold soft drinks, hot coffee and mid-afternoon snacks. No alcoholic beverages, please. A freewill donation will be taken to offset costs. We will have drawings for keepsake prizes, such as four rainbow placemats, 12 potted plants and 12 crocheted doilies as well as signed copies of the books Well At This Time and Forged in Steel.
Top 10 Favorite Minerd.com Blog Posts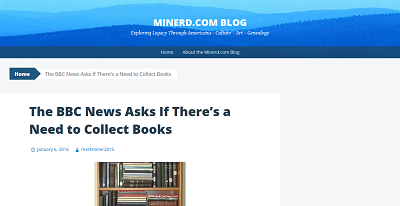 The Minerd.com Blog -- launched in 2015 -- continued the past year to tell more of the stories of the old forgotten lives and try to make sense of all of the lessons these lives tell us.
~ Photo of the Month Recap ~
~ Once Again, a Heart-felt Thank You! ~

Mark A. Miner
As Minerd.com is now in its 17th year, it's exciting that this work never ends. The site changes almost every week and continues to be fascinating, surprising, eye-opening and never ever dull. New material continues to be shared by long-lost cousins near and farm.
Thank you again to everyone who has contributed your special part from your own family's trove of family treasures. This site is for you, and would not be possible without you.
Sincerely,
Mark A. Miner
Founder, Minerd.com
February 9, 2017