2007 Annual Review
A Report for Family and Friends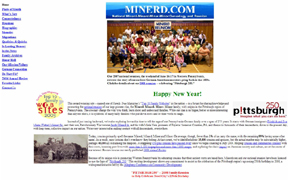 "PITTSBURGH 250" was the primary focus of Minerd.com in 2007 as we gear up for our national reunion in June 2008 in Pittsburgh to help the Steel City celebrate its milestone 250th anniversary.
Pittsburgh is the symbol of the epicenter of our family's growth since 1791, when Revolutionary War veteran Jacob Minerd Sr. and his wife Maria settled in the Fayette/Somerset County mountains, some 60 miles southeast of the city. From this humble beginning, an estimated 50,000 cousins are alive today. Many have spread all over the world, whose great-great grandparents left Western Pennsylvania in the early to mid 1800s, never to return. Many others remain in Western Pennsylvania and have been here for generations. Our website educates all cousins that their ancient roots are here, and our national reunion invites everyone "back home."
We made ambitious plans for our clan to gather in the city at Pittsburgh's Heinz History Center – an affiliate of the Smithsonian Institution – on Sat., June 28, 2008, as part of a three-day reunion weekend.

Because of its unique role in promoting Western Pennsylvania as a tourism destination, Minerd.com and our reunion were licensed to use the attractive red and black "Pittsburgh 250" logo. This demonstrates our commitment to assist in the celebration, a high profile and widespread initiative led by the Pittsburgh 250 Commission of the Allegheny Conference on Community Development.
Minerd.com continues to be visible in Western Pennsylvania by sharing its rare postcards for publication every few weeks in the Pittsburgh Tribune-Review's Sunday "Focus Magazine." Since 2001, more than 60 cards have been reproduced in the Trib, with more coming in the new year.
~ One Million Visitors! ~

During 2007, our website logged several milestones, including its one-millionth visitor in August. The site received more than 22,000 visits a month on average, and an all-time monthly high of 32,216 visits in June. For all of 2007, the site was viewed more than 267,376 times, up from 226,255 the previous year. Many visits were from "frequent flyer" returners. By year-end, the all-time number of visits was 1,079,070.
This is strong empirical evidence that Minerd.com continues to deliver pertinent genealogy and regional history stories and photographs to visitors nationwide and around the world – whether related or not. We actively correspond with more than 300 cousin-households via email (for whom we have active addresses), and several hundred more via postal mail.
~ Passion for Original Research ~
One of the hallmarks of Minerd.com is its passionate focus on conducting original, proprietary genealogical research on a national scale. During the year, Minerd.com's founder made trips to Maryland (Deer Park and Oakland), West Virginia (Morgantown. Pisgah, Philippi and Grafton), Ohio (Columbus, Athens and Bowling Green), Washington DC (National Archives), Western Pennsylvania (Addison, Uniontown and Meyersdale) and Central Illinois to conduct personal, firsthand research. We also corresponded with leading research facilities such as the FDR Presidential Library in Hyde Park, NY and the West Virginia Regional History Collection at West Virginia University to obtain copies of one-of-a-kind documents.
Many other cousins and family friends, who have done their own research, generously and freely shared their findings for posting on Minerd.com for the enjoyment of all.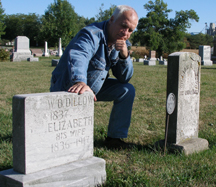 Seen here, Podraza pays his respects at the grave of Civil War veteran William Baker Dillow and his wife Elizabeth (Houser) Dillow in Deland, IL.
The October 2007 trip to Central Illinois was remarkable in many respects. For the 17th year, cousin-researchers Eugene Podraza and Minerd.com's founder traveled to gather firsthand documentation. The October trip utilized time-tested procedures of visiting courthouses and libraries to obtain public records (wills, deeds and newspaper obituaries) and visiting cemeteries to find and photograph ancient and fading grave markers. It included five days in eight counties on the prairie of Central Illinois. The intensive research produced 600 pages of copied material and resulted in 50 photographs of of old family grave markers. Other years' research trips have been made to 50-plus counties in Indiana, Ohio, West Virginia, Maryland, Pennsylvania plus the District of Columbia. These assure that data come from the best possible original sources, rather than purely relying on the work of others. As a result of this vast work of compilation, our archives has swelled to some 120,000 documents and thousands of photographs and postcards.
~ Cutting Edge Analysis of What Families Mean to the Pittsburgh Region and Americana ~
Gathering facts alone is not noteworthy. What sets Minerd.com apart is its analysis of research findings to create meaningful interpretations of findings. Among the major updates the past year were the following:
Connectedness – our family's vast interconnections with the Pittsburgh region and Americana since 1791
Much-Married Mayle-Male and Minard-Miner Families of the Chestnut Ridge – a summary of 40 known marriages between the two mixed-race families in the Chestnut Ridge communities of Barbour and Taylor Counties, WV and Athens County, OH. This phenomenon has been studied by university researchers and described in books, news articles and published studies.
Coal, Coke and Steel – building upon our 1999 national reunion theme, we launched a new page naming and honoring more than 400 cousins who toiled in these industries over the years. Sadly, we now know of 25 cousins who lost their lives in related workplace accidents -- with Arthur E. White (1935) as the most recently one discovered.
A Sense of Wonder – expanding on our 1997 national reunion theme, we created a brand new page listing and featuring more than 375-plus cousins who have worked in the fields of public education since the 1800s, from one-room log schoolhouses to some of the nation's prestigious Ivy League universities.
Civil War Soldiers – our October 2007 visit to the National Archives confirmed the identify of our 99th known cousin -- Lemon W. Bristol -- to have served in the Civil War. We expect to break the "100" mark in 2008 as several more candidate soldiers are under investigation. We reprinted six Civil War letters -- not believed to have been published before -- by Capt. William Boyd of the 103rd Illinois Infantry, found in the Archives' vast holdings.
Wartime Casualties – continuing to collect the names of cousins who served in the military over time, we sadly learned of the 26th relative -- William McClain in World War II -- who gave his life during wartime in the military service of our nation.
In Lasting Memory – on July 1, 2000, exactly midway through the first year of the new millennium, we began to formally list and count all of the known deaths in the family from that time forward. As of today, New Year's Day 2008, we have identified 501 cousins and their spouses who have passed away during the ensuing seven and one half years. The data shows that on average, the Grim Reaper claims a cousin or spouse once every 5.46 days.
Biographies and Photographs – writing creative biographies of early cousins remains the backbone of our site, linked to bios of parents, siblings and children for ease of surfing. During 2007, we added 50 new biographies, for a grand total of 1,177. We also added about 1,000 rare images, for a total of more than 6,000 now available for viewing on the site.
~ Exciting New Finds ~
Among the amazing discoveries in 2007 was learning about ancient cousins' unique life experiences. The highlights include:
Wilbert Regis "Patsy" Minerd's personal visit with President Franklin D. Roosevelt in 1937 at the White House to help settle a coal strike in the bituminous regions of Western Pennsylvania
William Taylor Davidson's work in the late 1800s and early 1900s as editor of the Fulton Democrat in Lewistown, Illinois. He knew and covered the presidential campaigns of Abraham Lincoln, was a proponent of narrow-gauge railway development, and was savagely lampooned on the pages of Spoon River Anthology, the classic work of poetry by Edgar Lee Masters.
A stoneware business venture in Knoxville, TN, which began immediately after the Civil War, and failed a short time later, operated by brothers Robert Sanford Miner and Samuel Dawson Miner, sons of Henry and Matilda (Morton) Miner -- with a photo of the rare stoneware shown as our "Photo of the Month" for June.
Eunice Flora (Miner) Cummings Sayle, whose first husband was a Civil War surgeon, and second husband was a prominent judge of Fresno and San Jose, CA, and who survived the San Francisco Earthquake of 1906. (She was a daughter of Henry and Matilda (Morton) Miner.)

~ 2007 Reunion – "Our German Roots" ~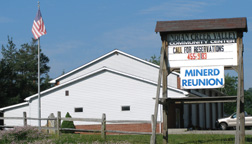 More than 70 cousins and friends of the family attended our 2007 national reunion, held the Father's Day weekend of June 16-17 in Western Pennsylvania, on the theme of "Our German Roots." The group included 22 first-time guests and 49 repeat visitors. In all, cousins came from 24 Pennsylvania towns and six states. Over the past 15 years, reunion attendance has averaged 105 annually.
At the Saturday picnic, held at the Indian Creek Valley Community Center, cousin Barbara (Boring) Bauer (seen here) held the audience rapt with her research report on our earliest German-American roots. It changed everything we thought we knew.
This was the first time a member of Barbara's branch has visited the Pittsburgh region for a family event for almost 200 years. In 1812, her great-great-great grandparents, Daniel and Mary Miner Sr., left their Fayette/Somerset County home to become pioneer settlers of Perry County, Ohio.
On Sunday, a smaller group of cousins toured ancient family graves at the Normalville and Imel Cemeteries, with many fascinating stories told, and attended church together to experience a traditional Methodist Church Father's Day service.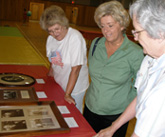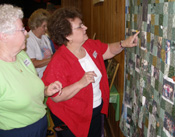 2007 reunion -- left: Gloria Carey (right) shows heirloom photos to Doris Hawker and Peg Mansberry. Center: Frankie Cramer labels photographs. Right: Loretta Downes and Sharon Kern study a quilt featuring Laughery family photos.
~ Reunion Archives ~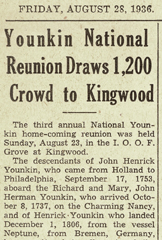 We took active steps during 2007 to build our knowledge base of reunions in the early to mid 1900s among various branches of our family. Among the highlights was finding newspaper articles at the Meyersdale (PA) Library giving detailed accoiunts of the Minerd-Miner Reunions of Somerset/Fayette Counties, PA in 1923, 1924 and 1925.
Minerd.com's founder gave a powerpoint talk at the 2007 Junghen-Younkin Reunion in Kingwood, Somerset County, PA, about the founding of the Younkin National Home-Coming Reunions of the 1930s, led by Charles Arthur Younkin and other Younkin cousins. New webpages were created featuring detailed descriptions of the reunions from 1934 to 1941, relying on contemporary newspaper accounts and rare family letters. Plans have been made to reprint the full set of eight issues of the Younkin Family News Bulletin newspaper published from 1937 to 1941. Bound sets will be available for sale at the Junghen- Younkin Reunion at Kingwood on Sat., July 26, 2008.
As well, an labor of love is being conducted by among a group of dedicated Younkin cousins to scan all of the voluminous three-ring binders of the late Donna (Younkin) Logan. These notebooks contain thousands of pages of extensive Younkin research discoveries on a national scale. The purpose of this large-scale, intensive work is to convert the information into a very portable, easily duplicated format that can be easily and widely shared with everyone who has an interest.
~ Public Relations ~
During 2007, Minerd.com and its research were in the news and made news, as evidenced by mentions in more than 18 news articles, websites, blogs and presentations. The objective of this publicity is to broaden public knowledge of the website and its encyclopedic content, and to generate excitement and enthusiasm for its ongoing research and promotion of our annual reunion.
The website's founder was a featured speaker on his award-winning topic of "Tontogany, Ohio's Deep Secret" at two events in 2007 – the Greater Pittsburgh Civil War Round Table in March, and the annual conference of the Little Big Horn Associates in North Platte, Neb., in July. The story centers on Thomas C. "Tommy" Custer, his mother Rebecca Minerd, and his father, two-time Medal of Honor winner Thomas Ward Custer, who was killed with General George Armstrong Custer at the Battle of Little Big Horn.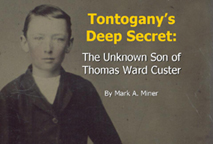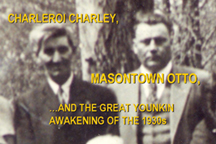 Title slides of two national presentations by Minerd.com's founder in July 2007
~ Most Popular Pages ~
The five most popular pages on Minerd.com during 2007 were:
The most-visited biographies on the site, in order of popularity, were:
~ 2008 Plans - Honoring the "Mountain Poet" ~

In the spring of 2008, a grave marker will be placed in the Indian Creek Baptist Church in Mill Run, Fayette County, PA, honoring the memory of the "Mountain Poet," Allen Edward Harbaugh, and his wife Margaret (Williams) Harbaugh. In a joint effort with Harbaugh's grandchildren, Minerd.com's founder is helping to coordinate this effort to pay tribute to a talented but largely forgotten renaissance man of the late 1800s and early 1900s. Harbaugh's genealogy of the Minerds has been critical to our understanding of the early generations in Western Pennsylvania and Eastern Ohio.
Harbaugh, often writing under the pen name of "Al-Ed-Ha," also was a turn of the 20th century Renaissance man, poet, journalist, sketch artist, sign painter, historian, economic development champion and political analyst. His poetry, published nationally in a book in 1890, appeared with the works of Walt Whitman, Julia Ward Howe, James Whitcomb Riley (the "Hoosier Poet") and Dr. Oliver Wendell Holmes Sr. (father of the Supreme Court Chief Justice).
~ Thank You! ~
Thank you again to everyone who plays a key role in our website's continued development and expansion. This site is for you, and would not be possible without you.
Sincerely,
Mark A. Miner
Founder, Minerd.com
President, Mark Miner Communications, LLC
New Year's Day 2008