Home

2004 Annual Review
A Report for Family and Friends
It's been a great year for Minerd.com! The past 12 months have been devoted to exciting new research nationally, promoting our annual reunion featuring Fallingwater, and adding hundreds of photograph and postcard images to impart a visual sense of identity and place of the lives of cousins of the past.
In May 2005, Minerd.com will celebrate its fifth anniversary online. We have reached this milestone due to the great interest and generosity of our cousins and friends who have shared their own precious family artifacts for the broader good of the family. Thank you to everyone who has shared part of themselves to enhance our website.
~ Photos, Photos, Photos ~
Chickamauga battlefield
– It's clear that our readers want to see photographs, and lots of them. Our "Photo of the Month" feature was once again one of our most popular pages. During the year, we added 500 images showing family faces and homes as well as streetscapes and industrial and business sites where cousins lived or were employed.
Some of the specialty photos in our collection are railroad, heavy manufacturing and Civil War images. In fact, during 2004, we added old postcard images of 14 Civil War battle sites at Winchester, Fredericksburg, Richmond, Lynchburg, Manassas/Bull Run, Seven Pines/Fair Oaks and Cedar Creek, VA; Vicksburg, MS; Chickamauga, Stone's River and Shiloh/Pittsburg Landing, TN; Kennesaw Mountain and Andersonville Prison, GA; and Camp Chase, OH. (The postcard seen here depicts the Chickamauga battlefield in Tennessee.)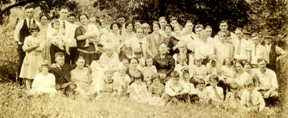 1925 McKnight reunion
In addition, the site continues to be a center for photographic research. In 2004, one highlight was posting an old photo of the 1925 McKnight Reunion (seen at right) in a super-enlarged, high resolution format so that faces could be studied and identifications made easily. We also added a special page of old postcards of the site of Fallingwater at Bear Run, PA, in the years before the house was built.
Today, there are 3,800 images on our website, up from 3,300 a year ago, with major increases expected in 2005. One of our long range goals is for each of the biographies on Minerd.com to have at least one photo pertinent to the life of that individual and his or her family, more than just text.
~ Annual National Reunion ~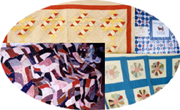 Online Quilt Museum
Minerd.com will play a major role in promoting our 2005 national reunion on the theme of "A Legacy of Quilts." Unlike previous year's topics, which focused on male-oriented themes, the upcoming topic is aimed at honoring our women cousins and their artistry. To be held in Western Pennsylvania the weekend of July 9-10, 2005, the reunion will involve a large display of quilts - past and present - with the story of each quilt told by the current owners ... such as who made the quilt, what year it was fashioned, and the background of the pattern or fabrics/materials used. Each quilt will be individually photographed for publication on Minerd.com for future study and appreciation as we establish our "Online Quilt Museum."
Fallingwater
Our 2004 Reunion, "Fallingwater: A Long Family Affair," honored 26 cousins past and present who have worked at what is widely known as the nation's most famous modern house, designed in the 1930s over a waterfall for the Edgar J. Kaufmann Sr. family by Frank Lloyd Wright. Fallingwater employee and cousin Joy Cunningham Miller w as our guest speaker. A smaller than usual but highly interested crowd of 87 cousins attended from seven states.
The 2004 reunion committee presented a handsome wooden and glass flag case containing the triangle-shaped folded flag presented to us at the 2003 reunion dedication of the Jacob Minerd Sr. Revolutionary War grave marker. The case also includes the shell casings from the 21-gun salute and is intended to be brought every year in perpetuity for all cousins to see and appreciate.
~ New Research ~
Our website is a framework for sharing groundbreaking research of vitally important topics about our family that have impact far beyond our clan. One such landmark topic, tied to our 2004 national reunion, was "Fallingwater: A Long Term Family Affair." We are grateful for our affiliation with the Western Pennsylvania Conservancy to bring this important reunion topic to fruition. We published a research report based on primary research of old documents in the Fallingwater Archives, thanks to the guidance of Franklin Toker, author of the book, Fallingwater Rising, and cousin Denise Kessler Miner, public tour manager at Fallingwater.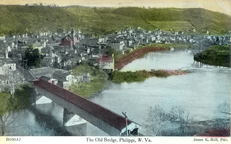 Philippi, WV, home to a large
branch of our cousins
Perhaps the most fascinating new material to come to light in 2004 involves a racially mixed Minerd-Minard group that traces its lineage back to a Pennsylvania German father (Jacob Minerd) and a Native American mother (Ruth Adams) who began their married life in the 1830s in Fayette/Somerset Counties, PA. They migrated to Grafton and Philippi, WV, and thence to Marietta, Ohio, with several of their sons serving in the Civil War. (A rare postcard of Philippi is seen at left.) This group married into the Male/Mayle, Croston, Pritchard, Goins, Wright and Woody families, known collectively with others as the "Chestnut Ridge Community." The group has been heavily researched by university scholars, sociologist and anthropologists over the years, and been the subject of books and news articles. Major efforts will be made in 2005 to deepen our understanding and broaden our knowledge and outreach to living day descendants, and to determine with precision how this family connects with ours'.
~ Gettysburg Adopt a Position Cleanup ~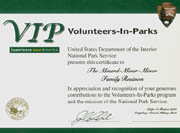 Gettysburg certificate
Thanks to the tireless efforts of our Cemetery Cleanup Committee, chaired by cousin Sid Miller of Mont Alto, PA, we have received a National Park Service award for our services at the Gettysburg National Battle Park. (Click to see an enlarged view of the certificate.) Sid and his committee are involved with the twice-a-year cleanup of the monument to the 107th Pennsylvania Infantry. If you would like to be part of the next cleanup effort this fall, please contact us.
~ Visitor Statistics ~
In 2004, Minerd.com demonstrated its growth and popularity by attracting 132,569 visitors. While this was a 7.6 percent decrease from last year, the quality of inquiries and feedback has remained at a very high level. Since the time of our launch in May 2000, the site has attracted more than 412,800 visits. During the early months of 2005, we should receive our half-millionth visitor. The 2004 statistics include:
Attracted an all time record 13,976 visits in one month (April);

Averaged 11,047 monthly visits;

Established email contact with scores of "long-lost" cousins; and

Added 71 new biographies, for a total count of 1,025.
~ Favorite Pages ~
Among the most popular pages on our website during the year were the following:
~ New and Special Pages ~
In addition to our popular biographies, Minerd.com continues to add interesting content in the form of memoirs and special features. One of the best ones added in 2004 was a photo museum of "Grandma Letitia's Personal Things," displaying old family heirlooms of Letitia (Harbaugh) Stoner that were photographed by her loving granddaughter, Sharon (Sheldon) Kern.
~ In the News ~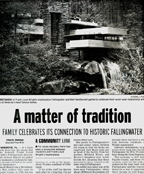 Associated Press story
Minerd.com regularly makes news and is in the news. During 2004, continuing a practice dating to 2001, the Pittsburgh Tribune-Review published seven of our old postcards in its Sunday "Focus Magazine" section. In July, the Associated Press's Charles Sheehan wrote a feature story about our reunion, including interviews with our cousins, which was published in newspapers all across Pennsylvania.

Buzz Storey
On Sept. 13, 2004, our family lost a great friend with the passing of veteran Uniontown (PA) newspaper editor Walter "Buzz" Storey, at age 82, after a 61-year career with what is now the Herald-Standard. In one of several obituaries, the Pittsburgh Post-Gazette said: "He spent his whole career in Uniontown, starting on the staff of the old Daily News Standard in 1940 and finishing as the town's unofficial but most trusted historian." In 1994, when he began publishing notices of our annual reunions, Buzz wrote: "It's hard to realize to what extent a family can grow in a little more than 200 years." In 1995, he called our research an "extraordinary genealogical treasure hunt," and in 1998 reported that ours' is "one of the most extensively researched families in the country." In his last column about our reunion, in 1999, he observed that the event would follow "its custom of honoring a certain segment of its membership at each annual get-together ... [by paying] tribute to its coal, coke and steel workers who helped build the nation." Posthumously, we thank Buzz for his many kindnesses, and join his legions of admirers in mourning the loss of a regional treasure.
~ In Lasting Memory ~
Sadly, the year saw the passing of at least 41 known cousins and spouses, some naturally, some tragically. The count will surely grow as more information is learned. We have been tracking this trend on a national basis since July 2000. During that timespan, we have lost more than 275 cousins, about one every 5.9 days. Each name is posted on our special page, "In Lasting Memory." It is clear that we are losing family members at alarming rates. Time is of the essence -- if you want to seek family information, or repair a relationship with a loved one, do not delay.
Sincerely,
Mark A. Miner
Founder, Minerd.com
President, Mark Miner Communications, LLC
January 2005