2005 Annual Review
A Report for Family and Friends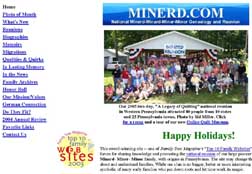 Homepage in January 2006
The record-breaking year 2005 was marked by many special highlights for our Minerd.com family website. These range from record numbers of visitors and national public visibility to a broadening venue for display of new photographs, publication of unique reunion activity and sharing of cutting-edge research.
Thank you to all who have generously shared your precious family materials to add important threads to the overall family quilt. This site would not be possible without you.
In March, we enjoyed an all-time high of 16,448 monthly visits. In May, we celebrated our fifth anniversary. In late June, we received our half-millionth visitor. During the year, 172,644 visitors came to our site, up 30 percent from 2004. In all, 55 new biographies and many special feature pages were created, and the site now features bios of 1,080 branches of the family, virtually all born before the year 1900.
Over the span of five and a half years, since we launched Minerd.com on May 7, 2000, the site has received an astounding 585,439 visits.
~ New Photographs ~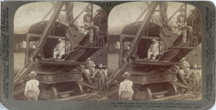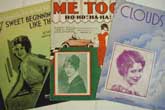 Left: Culebra Cut stereoview President Roosevelt and Clyde Pring. Right: sheet music of nationally renowned singer Annette Hanshaw
More than 800 wonderful old images were added to the site in 2005, tied to exciting new areas of research. The site now features more than 4,600 images. Among the new ones added last year were the following: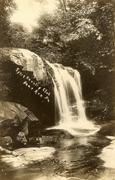 Future site of Fallingwater
Culebra Cut – original image from 1906 showing cousin Clyde E. Pring with President Theodore Roosevelt at the "Culebra Cut" construction zone of the Panama Canal – our "Photo of the Month" in May. This historic image also has been widely published in encyclopedias and books.
Fallingwater – expanding on our 2004 reunion theme and research, several original postcard images showing the Syria Country Club property in the years before the "most famous modern house in America" was designed for the Edgar J. Kaufmann department store family by Frank Lloyd Wright. The very rare image seen at right depicts the rock and waterfall above which the house sits today.
Singer Annette Hanshaw – images of old sheet music and advertisements of the first known singer to reach national fame in our family, once named by Radioland Magazine as "most popular woman singer" in the nation, and praised by the New York Times as "one of the most prolific recording singers in the late 1920's and early 30's." During her career, she sang with the likes of Jimmy and Tommy Dorsey, Benny Goodman and other jazz superstars.
Penny Postcards – of Lulu (Stairs) Swift of Mt. Pleasant, PA, gleaned from a collection of 47 postcards sent by family and friends from 1908 to 1918, and found in 2005 in an antique shop in Ligonier, PA.
Small Towns and Streetscapes – original old postcard images of small towns where cousins lived in the early 1900s, including such places as Burton, WV; Laredo, MO; Norvelt, PA, among many others. (Norvelt, a project championed by First Lady Eleanor Roosevelt in the 1930s, and home of Ralph and Violet [Summy] Minerd, was our "Photo of the Month" in July.)

One of the family's creations
~ Online Quilt Museum ~
Quilts are a remarkable legacy that many women in our family have quietly, expertly given to the world. At our 2005 national family reunion, cousins brought two dozen quilts to display, explain and be photographed (by Sid Miller) to highlight this special area of our family's artistry. A crowd of 80 people attended from 10 states and 25 Pennsylvania towns.
Many more quilt photographs were sent by cousins unable to attend. Each of the 49 works is individually profiled on our new Online Quilt Museum for study and appreciation. (For example, the "Lone Star" pattern by the late Lilly Blanche (Miner) Sanner, seen at right, can be viewed by clicking here.)
~ New and Special Pages ~
A number of special feature pages and memoirs were added to Minerd.com in 2005. These include: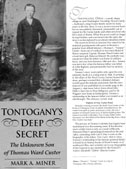 Custer article
~ Influential Publications ~
During the year, Minerd.com again reached national and regional prominence through publication in books, magazines and newspapers. Our "Tontongany's Deep Secret" article about Thomas C. "Tommy" Custer -- the son of Civil War Medal of Honor winner Thomas Ward Custer and the nephew of General George Armstrong Custer -- was printed in the Research Review Magazine of the Little Big Horn Associates. Authored by Minerd.com's founder, the 11-page article is illustrated with more than 20 rare photographs and images. It tells the story of Tommy, his mother Rebecca Minerd and his famous father, and how the community of Tontogany, Ohio harbored the deep Custer family secret "which everyone knew but no one publicly discussed."

Dunbar, PA book
Two new books included references to the website. The volume
There's No Place Like Dunbar! 2002-2004 - Historical Vignettes and Personal Reflections from The Daily Courier's Dunbar Column,
was written by Donna R. Myers and Bonnie L. Zurick of the
Dunbar (PA) Historical Society
. In the dedication, the authors wrote: "A very special thanks to ... the nationally recognized
www.minerd.com
website, for encouraging us and sharing glimpses of his family's ties to the Dunbar community."
The 740-page book, George Fluckey the Hessian Soldier, was published by Lois Catlett and Sharon (Catlett) Kossieck. It contains extensive excerpts of Minerd.com biographies of Daniel and Margaret (Fluckey) Miner Sr. and their descendants of Cardington, Morrow County, OH. Minerd.com is credited as the source throughout the volume.
Postcards from our website were published and mentioned in eight issues of the Sunday Pittsburgh Tribune-Review newspaper in its weekly feature, "A Look Back."
~ Major Reunion Changes for 2006 ~
A major decision was made to move the 2006 reunion to a new facility – the Indian Creek Valley Community Center, a 15 minute drive from the Pennsylvania Turnpike exit at Donegal. The ICVCC, located near Normalville and Indian Head, is a fully enclosed modern building that features air conditioning, modern men's and women's restrooms, a modern kitchen with refrigeration, plenty of electrical outlets, and a meeting room larger than a basketball court. Click here to see photographs inside and out. The ICVCC is a short distance from plenty of shopping, amusement parks, hiking and biking, camping and other opportunities for fun. Click to see a wide range of activities in the local Laurel Highlands region. For spouses who may not want to attend the reunion, the "Steel City" of Pittsburgh is just a 90-minute drive from Donegal, and offers Pirates baseball, world-class museums and other cultural and tourist activities.
New home of our reunion -- the air-conditioned Indian Creek Valley Community Center, just 15 minutes from the Pennsylvania Turnpike
~ New Research Breakthroughs and Puzzling Questions ~
Amazing new discoveries were made throughout the year, and uploaded to Minerd.com. They include:

1857 grave marker in Ohio
Solomon Minard Sr. Family – In August, Minerd.com's founder and cousin Eugene Podraza traveled to Mt. Vernon/Gambier, Knox County, OH, to research the family of Solomon Minard Sr. Many substantial findings were made and documented with photography, including Solomon's nearly 150-year-old grave marker in Jelloway, seen here, dating to 1857. This trip marked the 16th consecutive year that Miner and Podraza traveled in August to a distant place to research together. In addition to Ohio, states they have visited together include Indiana, West Virginia and Maryland.
Jacob Minerd and the Chestnut Ridge Community – For the second straight year, we probed deeper into the story of a racially mixed Minerd-Minard group that traces its lineage back to a Pennsylvania German father (Jacob Minerd) and a Native American mother (Ruth Adams) of Fayette County, PA of the early 1800s. They migrated to Grafton and Philippi, WV, and thence to Marietta and Athens, OH. Their offspring married repreatedly into the Male/Mayle, Croston, Pritchard, Goins, Wright and Woody families, known collectively with others as the "Chestnut Ridge Community." The group has been heavily researched by university scholars, sociologist and anthropologists over the years, and been the subject of books and news articles.
Revisiting the Meinert Family's German Origins – Many cousins with knowledge of Germany have questioned some of our previously published beliefs about our clan's German origins. To that extent, we re-examined and tested the facts behind these early beliefs, and found their merit was shakier than we had realized. Cousin Barbara (Boring) Bauer has done breakthrough research in the Palatines to America research facility in Columbus, Ohio, and published a highly credible, alternative theory of our Germanic roots. If this proves to be true, then we can say our clan can trace back to the town of Jever in Oldenburg, Niedersachsen, Germany and that our ancestors first came to Albany, New York before moving on to Berks County, PA. Click to read her excellent summary, The Immigrant Brothers: Meindert and Carsten Fredericksen.

Church of God archives
Research Trips – During 2005, Minerd.com's founder made "paper archaeology research" trips to more than 15 key sites where cousins resided in the long-ago past or substantial archives are housed. These include six communities in Ohio (Athens, Marietta, Findlay, Mt. Vernon/Gambier, Columbus and Bowling Green/Tontogany); six in Pennsylvania (Greensburg, Mt. Pleasant, Scottdale, Connellsville, Dunbar and Pittsburgh); two in West Virginia (West Union and Clarksburg); and the National Archives in Washington, DC. The Findlay trip included fascinating discoveries in the Churches of God Archives at the University of Findlay, courtesy of Dick and Sharon Kern. Seen here: Minerd.com founder Mark Miner reviewing microfilm copies of old Churches of God newspapers.
Civil War Soldiers - During the year, we identified three more cousin-soldiers who definitely, or may have, served in the Civil War -- William Henry Alderman, Gilman Rose and Samuel C. Smale. Their lives are being researched more fully, and their biographies will be expanded when new knowledge is gained.
~ Favorite Pages ~
Among the most popular pages on our website during the year were the following, in order:
~ In Lasting Memory ~
The Grim Reaper continued his devastating work in 2005. We know of at least 55 cousins who passed away between Jan. 1 and Dec. 31, 2005, with that number certain to grow as more cousins make contact with us and share information. Their names, linked to biographies of their family branch, are listed on our special page, "In Lasting Memory." Sadly, since we began counting in July 2000, 354 cousins and spouses have passed away. The data suggests we lose a cousin once every 5.7 days on average. It's a staggering toll.
~Cosmetic Change ~

Modified masthead
Regular visitors to Minerd.com may have noticed a slight change to the top of each page -- a reworked MINERD.COM masthead. In planning for some time, it accomplishes two primary objectives -- first, to add the spelling variant "Minard" to reflect a major area of research the past several years. Second, it reduces by half the amount of vertical space taken up by the masthead. The blue background, while consistent in color with the original masthead, is a more interesting in design. It shows range after range of mountains, symbolizing the mountainous region of Fayette/Somerset Counties, PA, from where we all originate, and also the layer upon layer of family biography we are discovering in this great adventure together.
Sincerely,
Mark A. Miner
Founder, Minerd.com
President, Mark Miner Communications, LLC
January 2006