2002 Annual Review
A Report for Family and Friends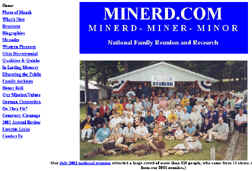 Homepage in January 2003
In 2002, Minerd.com enjoyed a record-breaking year in many respects, thanks to our many cousins and friends around the world. The year saw our site reach new levels of visits and pages, as well as shared information and public recognition.
During the year, the site received 84,555 unique visits or "hits," a jump of 68 percent over 2001.
Monthly records were set five different times. December 2002 had the highest number of visits (9,145), beating records set in July (8,475), May (7,489), March (6,029) and January (4,835). Between the site's launch in May 2000 and the end of 2002, the site has received a grand total of 136,701 hits.
Among the most popular features in 2002 were:
There are now more than 880 biographies on Minerd.com, up from 500 in January 2001. The number of visual images (photographs, postcards, news headlines and letters) is well over 2,700. During the year, many cousins graciously shared invaluable information and photographs from their own personal holdings.
During the year, several major new pages were created, including:
A website-within-a-website tutorial was built, and demonstrated live at a genealogists' meeting in Pittsburgh, to encourage others to develop their own personal webpages.
Our first award
More than 210 people contacted us for the first time in 2002 after viewing the site. Among cousins and others, they included researchers, historical societies, archivists, preservationists, the media and students. Material from our site was used for high school and college research projects, as well as for other websites, books and articles.
In July, Minerd.com received its first major award, the "Best Site Pick," thanks to the Golden Gate Genealogy Forum on AOL. The site was mentioned in at least 33 news stories, websites and speeches. The Chillicothe (OH) Gazette observed that our site has "built a national following" and the St. Petersburg (FL) Times said the site has done "a great job ... [of being] informative, educational and interesting." The Pittsburgh Tribune-Review used old postcards from our archives in 13 of its Sunday "Look Back" features, and the Philadelphia County (PA) GenWeb Project called our Keep Sweet! memoir "A must read!!"
To our cousins and friends, thank you for your ongoing interest and support. We want to continue to make our site even more entertaining and informative for you in 2003.
Sincerely,
Mark A. Miner
Founder, Minerd.com
President, Mark Miner Communications, LLC
January 2, 2003