Home

2010 Annual Review
A Report for Family and Friends
Celebrating its 10th anniversary in 2010, the award-winning Minerd.com family website rebounded from a down year in 2009 by drawing its second all-time-highest number of annual visitors, adding voluminous amounts of content, and forging new friendships to help us reach new audiences.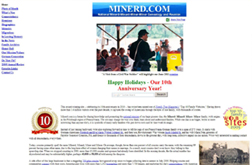 Minerd.com homepage -- January 2011
All told, more than 1.7 million visitors have clicked into Minerd.com since its launch on May 7, 2000, including 266,551 the past year. Our strategy remains the same as the day the site went live – to appeal to tens of thousands of curious cousins who google a family name. We want search engine spiders to bring these cousins to Minerd.com and aspire for our site to deliver a meaningful, memorable experience. The site encourages interested cousins to share their own family treasure trove of information and invite them to our next family annual reunion in the Pittsburgh region.
As more and more names are added to the site, the more Google will find and deliver them to web-surfers in our family. It's a perfect system to connect like-minded people who share an interest.
Why the site's visit statistics improved so dramatically in 2010 may be inferred from research by the Pew Internet & American Life Project. The Pew's data show that more American adults than ever before use the internet, send or read email, use a search engine, and research a product or service. The same research shows a sharp decline in internet adoption by American adults in 2009, with a strong bounceback in 2010. This may mirror the economic downturn that our nation has weathered the past several years, and the fact that some families who may have been forced to cut back their Internet usage during that time have now returned to the online world.
The Numbers: Visitor Totals from 2000 Through 2010
Minerd.com received 266,551 visits in 2010 -- our second highest total and a sharp rebound upward from the previous year. During the past year, 27 new biographies were added, and hundreds more modified, for a total of 1,359; and more than 1,100 images were embedded, for a total of 8,800-plus on the site.
As a mark of Minerd.com's relevance, its content continues to be used by students, authors and researchers. Many cousins regularly contact me to ask if they can add our site's content to their genealogy records or websites. As well, a thesis authored by an Ohio State University student references our site as a major source for her work of the family of William Minerd of Philippi, WV. Entitled "Founding Chestnut Ridge: the Origins of Central West Virginia's Multiracial Community," her publication discusses "the nature of racial ambiguity and identity construction in an early American frontier settlement." Link.
New joint venture partner
~ New Promotional Joint Venture with VisitPittsburgh.com ~
In a new promotional joint venture, Minerd.com and VisitPittsburgh, the official tourist promotion agency of Allegheny County, PA (Pittsburgh), agreed to share each other's web content to draw more reunion groups to the region with inspiration and valuable advice. Said Tinsy Lipchak, VisitPittsburgh's executive director of tourism and cultural heritage, "We're delighted to work with Minerd.com to reach new audiences around the world whose ancestral home is Pittsburgh. It's a model other families and regions can use to attract guests who may have no other reason to come."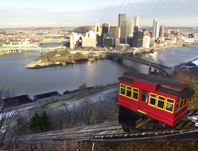 Pittsburgh, Pennsylvania
Under the agreement, the sites will share each other's content, including my top 10 list of tips, "Take It from Me." VisitPittsburgh's extensive planning resources should be a valuable tool for our cousins from out of town who are planning to attend our next national family reunion in 2011. This includes extensive data about hotels, events, festivals, transportation, sports, restaurants, cultural attractions and shops.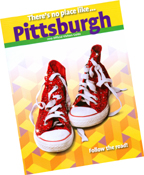 Visitors guide with my article
The joint venture announcement, syndicated nationally via PR Newswire, was picked up by more than 300 electronic news media outlets, providing extensive online exposure.
Minerd.com also was mentioned, and our national reunion is pictured and featured, in the new publication There's No Place Like Pittsburgh, the official 2010 VisitPittsburgh Visitor's Guide. The booklet is a one-stop guide for everything to see and do in Pittsburgh. (Click to order your own copy from VisitPittsburgh.)
~ Relentless Pursuit of New Research ~
A great differentiating strengths of Minerd.com is its relentless pursuit of original, on-site, proprietary research on a national scale. This could not have been possible without the extraordinary online tools provided by Ancestry.com and Google Books.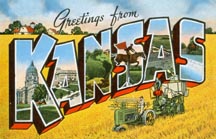 Destination for annual research trip
The top development was in late September-early October 2010, when for the 19th year, cousin Eugene Podraza and I traveled to a new region of the nation to conduct our work -- this time to eastern Kansas, logging 1,000 miles in six counties near Kansas City.
We photographed the graves of five Kansas cousin-pioneers of the late 1800s and early 1900s, and as well as the final resting places of their children and grandchildren. Where possible, we visited the site of their former farms to capture a photographic image. Scouring in courthouses, we found court records such as deeds, marriages and probate documents documenting their lives. In remarkable small and large public libraries, which all featured genealogy and regional history collections, we studied old newspapers and rare books to secure details otherwise lost to history. One librarian, Mary Barker, actually knew and introduced us to long-lost cousins living in the community of Lebo.
Listen to my podcast with a brief summary of the trip's highlights (MP3 file, 1.8 MB, 3:45 minutes), and be sure to see our November "Photo of the Month" with a comprehensive report on our findings.
Cousin-Pioneer Stories Discovered in Kansas
Boyd & Clara Barnhouse Huston - Olathe, KS -
Bio
Nathan Minard & wives Phoebe & Eliza - Topeka, KS -
Bio
David & Mahala (Miner) Johnson - Concordia, KS - Bio
John Edgar & Lottie (Overfield) Born - Lebo, KS - Bio
Samuel & Rebecca Minerd - Pittsburg,
KS - Bio
The eastern Kansas libraries we visited are listed below, where we found important, rare material. Without these public repositories of free information, we could not conduct our brand of research and make the findings available on Minerd.com.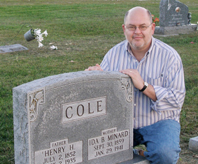 A favorite moment of 2010 --
paying respects at a pioneer's
grave in Richland, near Topeka, KS
In addition to the Kansas trip, Minerd.com's founder visited the following libraries and courthouses in 2010:
Michigan – researching the Uriah Minerd family, including S. Isadore Miner, the pioneering Texas journalist known as "Pauline Periwinkle." I also used the opportunity to attend the annual conference of the Little Big Horn Associates (LBHA) in Monroe and take a tour of the fabulous George Armstrong Custer Collection of the Monroe County Library System. Thanks to the kindness and generosity of many LBHA members, I have learned much about the culture of interest that General Custer still commands in our society and how this ties into our own direct Custer connection told on Minerd.com.
Pittsburgh/Allegheny County, PA – focusing on the family of Eugenus Gribble.
~ Public Outreach ~
Minerd.com Featured on PBS-TV "Faces of America" Site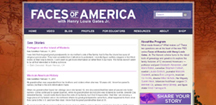 Minerd.com and its sprawling storytelling of its thousands of cousins was summarized in the "Share Your Story" section of the PBS website promoting the "Faces of America" series with Harvard scholar Henry Louis Gates, Jr. The series, which began airing in February, explored the personal "family histories of 12 renowned Americans -- professor and poet Elizabeth Alexander, chef Mario Batali, comedian Stephen Colbert, novelist Louise Erdrich, journalist Malcolm Gladwell, actress Eva Longoria, musician Yo-Yo Ma, director Mike Nichols, Her Majesty Queen Noor, television host/heart surgeon Dr. Mehmet Oz, actress Meryl Streep and figure skater Kristi Yamaguchi." Details (scroll to Feb. 10 entry) >>>

Connect with me
In 2010, I started using Facebook to promote new webpages and features, as well as announce plans for the 2011 reunion. Many cousins and friends follow the site on Facebook, and this technology has proven to be a tremendous way to reach out to cousins near and far. I also started using podcasts to tell the Minerd.com story in my own words, using my own voice.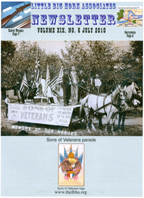 Little Big Horn Associates newsletter article about
Tommy Custer
The Little Big Horn Associates' Newsletter for August 2010 featured a Minerd.com cover story headlined "Tommy: The Unknown Custer of Tontogany, Ohio." The article covers our family's unique connection with the legacy of General George Armstrong Custer from the perspective of his nephew -- and our cousin Thomas C. "Tommy" Custer -- the illegitimate son of the general's brother Capt. Thomas Ward Custer and our Rebecca Minerd. The cover itself uses Minerd.com photograph of a Sons of Veterans parade and old postcard of the SUV's colorful logo, while the two-page layout contains 15 of Minerd.com's archival photographs and documents. Longtime LBHA board director Joan Croy has been an especially good and kind friend to Minerd.com over the years.
In April, at a meeting of the Sons and Daughters of Union Veterans in Somerset County, PA, at the historic Mount Union Church near Rockwood, I was honored to present a talk on our local Civil War connections. Entitled "Innocent Farm Boys No More: Somerset County Minerd-Miner Cousins in the Civil War," my powerpoint presentation highlighted the wartime and life stories of David Harbaugh, Henry A. Miner, Jacob M. Younkin, Charles Rose, Richard M. Gorsuch and Ephraim Minerd, and describes my own own personal brush with history when meeting elderly cousin Minnie (Miner) Gary, a Civil War soldier's daughter, in the summer of 1978.
To more proactively share Minerd.com's story to our cousins and the public, I completed a first year of emailing the "Photo of the Month" every month as a newsletter to a large number of cousins. Also included in this monthly distribution are leading museums, research libraries, news journalists, economic development officials and business colleagues. If you would like to be added to (or removed from) this newsletter list, please contact me.
~ Photo of the Month Recap ~
~ New Characters, Stories Discovered ~
William G. Dickinson -- Korean War soldier of Zanesville, OH, was killed in an accident while on duty in France, bound for Germany on an ill-fated train -- -- and one of 33 known cousins to lose his life as in military service during wartime.
Sylvester Georgia -- husband of Laveria Minerd of Pittsburg, KS, who was a soldier with the 28th Iowa Infantry during the Civil War and was captured as a prisoner of war -- and one of 107 known cousins/spouses to have served during the War Between the States.
Bert Hemphill -- a pioneer in luxury airline travel and tourism, dubbed the "dean of travel," international president of the American Society of Travel Agents, and inductee in the Travel Hall of Fame – who has was pictured in Esquire magazine and named in a variety of books such as Of Rivers and the Sea, Americanski Journalist and Creating Hawai'i Tourism.
George W. Henshaw -- pioneer of Iowa, whose promising life was cut short by cancer just shy of his 40th birthday -- and whose his brother in law Capt. Philo McGiffin, the "Yankee of the Yalu," was a soldier of fortune in Asia who "has the distinction of being the first man of American or European blood to command a modern battleship in action -- and what a battle," wrote historian Earle R. Forrest in The American Neptune.
Jack E. Jennings -- of Monessen, PA, died as a Japanese prisoner of war while on the Bataan Death March following the 1942 battle of Bataan in the Philippines -- and one of 33 known cousins to lose his life as in military service during wartime.

Clyde J. Jones -- seen at left -- a family historian, self-employed machinist/welder and water commissioner for many years for the City of EdCouch, TX.

Willis Harbaugh Laughery -- seen at right -- farmer of Farmington, DE, who with his wife Dorothy founded the annual Laughery Reunion in 1963, an event which continues today.
Ara "Juanita" (Dalton) Mayle -- whose husband Hartsel Mayle was killed in a West Virginia mine explosion in 1968 – leaving her to raise their 16 children – with her story was told in Time, Life and the Associated Press.
John McClements -- husband of Gertrude Minerd -- a prominent florist and caterer in Pittsburgh for decades, considered "the" florist serving the city's funeral trade, and mentioned in John Newton Boucher's 1908 book, A Century and a Half of Pittsburg and Her People.
John W. Miller -- coal miner in the Irona Mine communing of Preston County, WV who was murdered on Christmas Eve 1904.
Uriah Minor -- as a switchman at the railroad yard in Leavittsburg, Trumbull County, OH, was caught and dragged to his death by moving railcars in an accident 1874 -- and one of 30 known cousins to lose his life in a railroad and streetcar accident.

Harry George Schurecht -- seen at left, husband of Caroline Beggs -- spent his professional career researching ceramic clays and their application to industrial uses, in university, government and corporate settings, during which time he secured some 15 patents, authored 150-plus technical papers and gave presentations at many conferences and seminars, making important contributions to science and technology.

Bertram Philo "Burt" Seelye -- seen at right, husband of Mary "Mollie" Murdock -- who was principal of Public School No. 3 in the Bronx, NY, and established a reputation for advancing the study of art, as well as for authoring a textbook entitled Foundation and Practice of Arithmetic.
Norman M. Strauch -- railroader killed in an accident in McKeesport, near Pittsburgh, in 1949, some 23 years after his brother John had met a similar fate in Clarksville, PA -- and one of 30 known cousins to lose his life in a railroad and streetcar accident.

Lois Ann (Laughery) Winand -- seen at left -- college home economics educator in New Jersey who published several important studies and whose work has been cited in several books, including Children and Money: A Parents' Guide, by Grace W. Weinstein (Charterhouse, 1975).
~ Aspirations for 2011 ~
The major focus for 2011 for Minerd.com and our national reunion will be to mark the 150th anniversary of the Civil War by honoring our 107 cousin-soldiers who served in the conflict. Of the total 106 were Union soldiers and one was a Confederate; eight gave their lives; 19 suffered wounds; and 11 were captured as prisoners of war.

Soldier-diarist Ephraim Minerd
To do so, we will complete research on two recently discovered soldiers -- Uriah Minerd of the 20th Ohio Infantry and 201st Ohio Infantry, and Sylvester Georgia of the 28th Iowa Infantry and a POW. We also are taking steps to edit and produce Well At This Time, the previously unpublished Civil War diary of Ephraim Minerd of the 142nd Pennsylvania Infantry – focusing on the final year and a half of the war, when he was convalescing from injuries suffered during the Battle of Fredericksburg.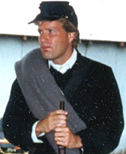 Re-enactor Bill May
We are preparing for a great reunion in June, entitled "A Visit from a Civil War Soldier." The reunion will feature a one-man performance by re-enactor Bill May and a daylong campout by the Sons of Union Veterans and Ladies Auxiliary of Somerset County, PA. (Those of you who attended our 1994 reunion will remember Bill's outstanding performance, just before the tornado arrived at our picnic grove.)
With help from cousins in Delaware, we hope to publish archives of the annual Laughery family reunion held every year since 1963. This would be the fourth reunion archive of a major branch of our clan (which includes Minerd-Miner, Harbaugh and Younkin), and the first such event based outside of Southwestern Pennsylvania.
Next fall, God willing, cousin Eugene Podraza and I hope to embark on our 20th annual research trip, this time to south-central Kansas. Our target are the six counties of Edwards, Barber, Harvey, Sedgwick, Anderson and Linn, focusing on the DeMoss, White, Walker-Rice, Knight and Brown-Jones branches.
~ Apologies ~
During the past year, I have to admit I focused more on research, writing and adding content to Minerd.com than quickly responding to cousins who contacted me. Some cousins are still waiting for an answer from me – unforgiveable. I apologize to you if in fact you reached out to me and received silence in return. One of my new year's resolutions in 2011 is to change that. I deeply regret any disappointment or unmet expectations you may have had.

Mark Miner
~ In Closing, A Heart-felt Thank You! ~
Now into our 11th year after Minerd.com went live online, this work continues to be deeply fulfilling, surprising and eye-opening. Thank you again to everyone who has contributed your special part from your own family's trove of family treasures. This site is for you, and would not be possible without you.
Sincerely,
Mark A. Miner, Founder, Minerd.com
January 2011