Home

2006 Annual Review
A Report for Family and Friends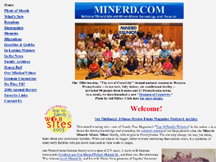 Homepage, January 2007
During 2006, the Minerd.com national website of the Pennsylvania German Minerd-Minard-Miner-Minor family reached more people, set new records and become more relevant in today's frenzied society where "life comes at you fast."
The site logged all-time high numbers of visitors; created many new pages of biography, photographs and archives; promoted our unique reunion in Western Pennsylvania; and published cutting-edge research discoveries. The site's content garnered a national award, and ambitious plans are in place for 2007.
Minerd.com was built with search engines in mind. As we expand with more information, and more curious cousins google names of their families, more people will connect with our website. A December 2006 survey by the Pew Internet and American Life Project shows that 70 percent of American adults use the Internet, representing some 141 million people, a staggering figure.
Thank you to all who have so graciously contributed to this never-ending effort by generously sharing your resources and time.
~ A Look Ahead to "Connectedness" ~
On the horizon for 2007 is publication of our most comprehensive effort to date -- an easy to use analysis of the contributions of our extended cousins on American life and culture. Entitled "Connectedness," this study will demonstrate that over time, extended families such as ours' become a microcosm of society, and that America is truly nothing more than a brotherhood of extraordinarily diverse, connected peoples.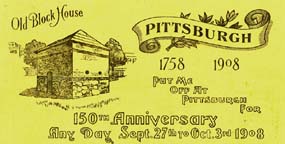 Focus on Pittsburgh's 250th birthday in 2008
The results will be stunning -- an overview of the family's role in military service and sacrifice; the "peopling" of America; transportation; Pittsburgh's regional landmarks; popular culture, entertainment and creativity; our "Custer connection;" professional and collegiate sports; political and public service; science and space exploration; medicine; business and industry; farming and agriculture; public education; religious faith and evangelism; cousins in print; enduring lifetimes of racism; and genealogy, and family reunions and historical research.
This "Connectedness" page will be positioned to help the City of Pittsburgh celebrate its 250th anniversary in 2008. This national initiative, entitled "Imagine Pittsburgh," is being driven by the Allegheny Conference on Community Development to showcase how the region has changed the world. To support the agenda of "Return and Reunite," our website and reunion serve to educate tens of thousands of cousins in the diaspora that their ancient home is in Western Pennsylvania. One cousin of the past, Corwin D. Tilbury, was a member of Pittsburgh City Council in 1908, and served on the city's 150th anniversary planning committee.
Leading up to the Pittsburgh birthday celebration, our 2007 reunion, to be held the weekend of June 16-17, will celebrate "Our German Roots."
~ Record-Breaking Statistics ~
Minerd.com attracted an all-time record 226,255 hits during 2006, an increase of 31% from 2005, and up 70.7% from 2004. To compare further, in 2001, the first full year the site was online, it logged 48,034 visits.
The top month was in March 2006, with a staggering 22,770 unique visits. Since its launch in May 2000, through the end of 2006, the site has drawn a grand total of 811,694 visits. There is every reason to believe we will hit our one millionth visit sometime in mid 2007.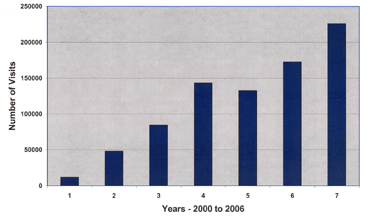 Minerd.com - seven year growth since 2000 (in annual visits)
During the year, 47 new biographies added to Minerd.com, for a total of 1,127 bios at year-end. Each of our biographies strives to bring to life the stories, life struggles and accomplishments, and photographic images of cousins of yesteryear who today are largely forgotten.
The five most popular pages (in order) were our Ohio Bicentennial, Archives, Photo of the Month, In Lasting Memory and Biographies. The top five most visited biographies (in order) were of Rebecca (Minerd) Behme Kerns, Thomas C. Custer (nephew of General George Armstrong Custer), Revolutionary War veteran and father of us all, Jacob Minerd Sr., "mountain poet" Allen Edward Harbaugh and Harrison County, Ohio pioneer John Minard Sr.
We added hundreds of rare images to the site, including photographs and postcards of cousins, their homes, workplaces and towns. There is well more than 5,000 images on the site today, many one of a kind, and found nowhere else.
Our very special page, "In Lasting Memory," recorded the deaths of 61 cousins and their spouses during the year. Since we began counting on July 1, 2000, this page has listed the passing of 420 cousins and spouses in the extended clan. This means that at a minimum, we lose cousins on an average of one every 5.67 days. The Grim Reaper does his work with great precision.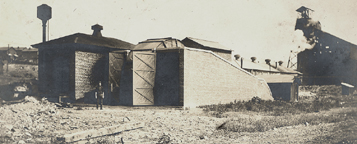 Coal mine at Republic, PA, a center for union organizing activity in the 1930s, one of hundreds of images added to Minerd.com in 2006
~ Zeal for Publishing New Research ~
One of the differentiating qualities of Minerd.com is its zeal and commitment to ongoing research and publishing the latest findings for all to enjoy and use in their own voyage of discovery. We added hundreds upon hundreds of documents to our archives and research library, the backbone of primary source content for our website.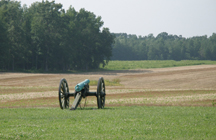 Malvern Hill battlefield
During 2006, Minerd.com's founder personally made two trips to the National Archives in Washington, DC; three trips to West Virginia (White Sulphur Springs, Morgantown, Grafton, Philippi, Arthurdale, Reedsville and Newburg); one trip to Virginia (Civil War battlefields where our ancestors fought at Deep Bottom, Winchester, Malvern Hill, Seven Pines/Fair Oaks, and Richmond); and libraries and cemeteries in Uniontown, Connellsville and Fairchance, PA. A cannon overlooking what once were the bloody Civil War battlefields of Malvern Hill near Richmond, where James Eyster Murdock fought, is seen at left.
Many other cousins freely shared information from their own personal family archives, and talked with older relatives to secure their precious memories of the past, before it is too late.
Our site continues to serve as a resource for students doing research projects; authors and journalists seeking information for publication; and potential members of the Daughters of the American Revolution (DAR) and Sons of the American Revolution (SAR), based on the numerous inquiries received during 2006.
~ Exciting New Findings ~
Three new Civil War soldiers in the family were discovered during the year – Jacob Ingles (101st PA Infantry), William D. Ogle (76th OH Infantry) and Rev. William H. Wydman (11th OH Infantry). Other potential soldiers being explored are Ignatius Martin (5th and 6th WV Cavalry) and brothers Samuel Dawson Miner (88th OH Infantry and 9th OH Cavalry) and Robert S. Miner (10th IN Infantry). The primary source of information about their lives and wartime experiences have been their Civil War pension files, available through the National Archives and the Veterans Administration.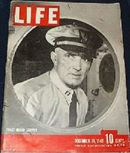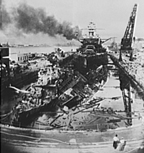 Cousin photographer published in Life Magazine
Personally, one of the most fascinating stories emerging from the misty past, and told on our website, is of the mixed race family of Jacob and Ruth (Adams) Minerd -- a Pennsylvania German husband and Native American wife -- who began married life in the 1830s in Fayette County, PA. They later migrated to Philippi, WV, and thence to Athens, OH, with their children facing lifetimes of racial discrimination due to the darker color of their skin, during an era when Jim Crow laws ruled our nation's attitudes.
Other fascinating learnings during the year included:
Pearl Harbor wreckage, from the Japanese military attack of Dec. 7, 1941, as photographed by cousin Harold S. Fawcett of Grafton, WV, an image published in Life Magazine and many history books of World War II. The photograph and Life cover are seen here.
"Whatever became of" four daughters of William and Elizabeth (Rankin) Minerd – Caroline Halfpenny of Bloomsburg, PA; Hester Wortman of Cumberland, MD; and Mary Belle Deane and Harriet Lowe of near Uniontown, PA. A grisly discovery found in this branch was of the unrelated coal mining deaths of father and son Isaac and Charles William Dean, two decades apart, near Uniontown.
James Wesley White, husband of Helen (Purinton) Manear Liady White, considered the "dean of West Virginia newspaper publishers."
Archives of the "Great Younkin Re-awakening" of the 1930s, which included a national home-coming reunion and a national newspaper, co-founded by Charles Arthur Younkin of Charleroi, PA and Otto Roosevelt Younkin of Masontown, PA.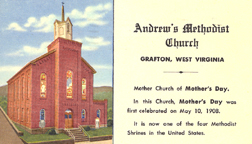 Mother's Day church founding
Prominent newspaper editor William T. Davidson, husband of Lucinda (Miner) Davidson of Lewistown, IL who may have known Abraham Lincoln in Illinois and contributed significantly to his region's political and economic development.
Role of Dr. Oliver L. Iden, husband of Bessie Holmes, who helped found what is now the Adena Health System, an important medical center in south-central Ohio.
Virginia (Fawcett) Mason, co-chair of the original effort to have Andrews Grafton (WV) Methodist Church (seen here) recognized as the Mother's Day Church, an international shrine to our national holiday honoring mothers;
Significant personal archives of descendants of Norton Miner Bedillion of Washington, PA; Cleveland Farabee of Waynesburg, PA; Albert Everett Minard of Clarinda, IA; Jennie (Miner) Paolone of Connellsville, PA; and Sarah (Minerd) Ingles Ogle of Pennsville, PA.
John Fridley, grandson of Claude Overholt of Youngwood and Kane, PA, who remains second in University of Pittsburgh varsity basketball history for rebounds in a game (24), fourth in career rebounds per game average (12.5) and ninth overall in career rebounds (800).
~ Features ~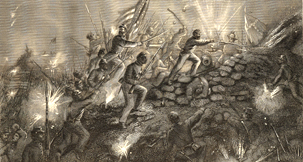 Sketch of Civil War battle of Fort Wagner, SC
During the year, a number of new feature pages were created on Minerd.com to show the context of the lives of our cousins set against the backdrop of the history, growth and development of regions of our nation where they lived and worked. This included:
Museum of Creativity, as a result of artifacts brought to our 2006 national reunion.
Images from the old photo album of William Jacob Long, rescued from near-oblivion of sale on eBay.
Rare old images of the National Road (today's U.S. Route 40), along which many of our cousins made their livings or their homes in the 19th and early 20th century in Pennsylvania and Indiana.
Addition of very rare postcard images showing the spectacular waterfalls at Bear Run, PA, in the years years before Fallingwater was built there.
Civil War battle sketches produced in the late 19th century showing many bloody engagements where our cousins fought. A drawing of the assault on Fort Wagner, SC, where cousin John Irving White was killed, is seen here.
Pittsburgh flood of 1936, thanks to Merchandise Brokers of Cape Cod.
Old newspaper clippings of the McDowell-Miner Reunion held at Connellsville, PA in the late 1920s and early '30s.
Photographs, postcard and newspaper clippings of the Minerd-Miner reunions of Western Pennsylvania of the 1910s-1930s; and
Cleanup of the neglected Lynn Point Cemetery near Dunbar, PA, including the graves of Civil War veteran James Minerd Jr., his wife and children, led by our cemetery cleanup chair Sid Miller.

Sid Miller clears a fallen tree at Lynn Point Cemetery
~ Public Outreach ~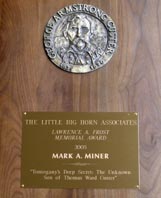 Little Big Horn Associates award
To be relevant in today's fast paced society that places little value on the past, Minerd.com takes proactive steps to remain relevant and interesting to young and old alike as we seek to preserve a fragmented family history on a local and national platform.
In July 2006, Minerd.com's founder received a national award from the Little Big Horn Associates for an article he authored in the group's magazine, LBHA Research Review. The article -- focusing on the life and times of Thomas C. Custer, the previously unknown, illegitimate nephew of General George Armstrong Custer -- was based on research and content originally prepared for Minerd.com. This award has helped attract great interest from a national following of military historians, authorities and buffs. Minerd.com's founder has been invited to speak on the topic at the March 2007 meeting of the Greater Pittsburgh Civil War Round Table, and at the July 2007 national conference of the Little Big Horn Associates in North Platte, NE. In July 2007, Minerd.com's founder will speak at the Younkin Reunion at Kingwood, PA, on the "Great Younkin Re-Awakening of the 1930s."
In Western Pennsylvania, for the sixth straight year, Minerd.com continues to freely share its photographic archive with the public in the Pittsburgh Tribune-Review's Sunday "Focus" magazine. Every six weeks or so, a Minerd.com postcard is published in its "Look Back" feature, showing a historic scene in the nine-county Pittsburgh region, and with a postcard archive on our site as an ongoing record.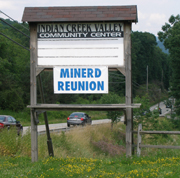 New reunion home
~ Reunion Attendance on the Rise ~
Our major decision to move the 2006 reunion to a new facility paid off in an attendance of 90 cousins and friends, an increase of 12.5% over 2005. The group came from 21 Pennsylvania communities and eight states, including as far south as Florida, and as far west as Indiana. The new home of our reunion is the Indian Creek Valley Community Center, a 15 minute drive from the Pennsylvania Turnpike exit at Donegal, a fully enclosed modern building that features air conditioning, modern men's and women's restrooms, a modern kitchen with refrigeration, plenty of electrical outlets, and a meeting room larger than a basketball court.
The theme of our 2006 reunion, "The Art of Creativity," celebrated a rich tapestry of artistic creations from 20-plus cousins which were displayed and enjoyed by all. These ranged from oil paintings to historic photographs to afghans, cross-stitching and music. Images of these priceless items were included to the family's new, Online Museum of Creativity, as we did in 2005 with our Online Quilt Museum.
~ Thank You! ~
Thank you again to everyone who plays a key role in our website's continued development and expansion. This site is for you, and would not be possible without you.
Sincerely,
Mark A. Miner
Founder, Minerd.com
President, Mark Miner Communications, LLC
February 2007