Home

2011 Annual Review
A Report for Family and Friends
Approaching its two-millionth visitor and its 10,000th embedded image, and celebrating its 11th anniversary the past year, the award-winning Minerd.com family website adding voluminous amounts of content, expanded with hundreds of rare photographs and illustrations, was mentioned in news stories and social media outlets, and forged new friendships to help us reach new audiences.
All told, 1,988,880 visitors have clicked into Minerd.com since its launch on May 7, 2000. The site should reach its two millionth guest in late January 2012.
Our strategy remains the same as the day the site went live – to appeal to tens of thousands of curious cousins, who google a family name, and deliver meaningful content about their families. The site encourages interested cousins to engage with the site and share their own family trove of information, and it invites them to our next family annual reunion, as a reminder that all of our ancient roots are in the Southwestern Pennsylvania (Pittsburgh) region.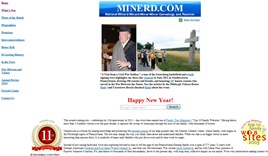 Minerd.com homepage -- January 2012
In 2011, Minerd.com received 188,166 visits, with some 511,510 pages accessed. During the year, 26 individual new biographies were added, and hundreds more modified, for a total of 1,387, all descendants of Pittsburgh regional pioneers Jacob and Maria (Nein) Minerd Sr. As well, more than 1,030 historic images were embedded, for a grand total of 9,800-plus on the site. Image number 10,000 should be uploaded sometime in late winter or early spring.
While primarily appealing to our family at large, an estimated 50,000 offspring scattered all over the world, Minerd.com's content regularly is mined by non-relatives, genealogists, students, journalists, authors and researchers. Many cousins regularly make contact to ask if they can add our site's content to their own family history records or websites.
~ Relentless Pursuit of New Research ~
Minerd.com's greatest differentiating strength is its relentless publication of original, on-site, proprietary research on a national scale. This could not have been possible without travel to different parts of the United States to examine local records as well as generous cousins who freely share of their own collections. Another invaluable resource is the extraordinary online repositories of archives provided by Ancestry.com, Google Books and Google News.
In early October 2011, for the 20th year, cousin Eugene Podraza and I traveled to a new region of the nation to conduct our work -- this time to south-central Kansas. We logged 992 miles in five counties near Wichita. The work included paying our respects at the graves of pioneers of south-central Kansas of the late 1800s and early 1900s, and copying court records, books and news obituaries documenting their early lives on the prairie. Summary >>>
The year also included research trips to the National Archives in Washington, DC; the Carnegie Library of Pittsburgh; and to West Virginia University's West Virginia Collection.
Research of Early Pioneers in Wichita and South-central Kansas
Mahala (Minor)
White -
Isabel, KS - Bio
Eliza (Miner)
DeMoss -
Kinsley, KS - Bio
Norman D.
Knight -
Burrton, KS - Bio
Mamie (Walker)
Rice -
Wichita, KS - Bio
As well, a fascinating, entirely new body of research was added to Minerd.com about nephews and nieces of Western Pennsylvania pioneer Jacob Minerd Sr. This included biographies of Burkhard and Elizabeth (Konrath) Meinder of Berks County, PA and Frederick and Elizabeth Miner III of Mauch Chunk (Jim Thorpe), Carbon County, PA, industrious branches of the clan who built iron foundries, breweries, shipbuilding factories and boiler works and published newspapers. Next April, God willing, cousin Eugene Podraza and I intend to visit the town of Jim Thorpe to further conduct our proprietary brand of in-person research.
Next fall, Eugene Podraza and I hope to make our 21st annual research trip to Iowa, where many tentacles of our family migrated and expanded in the 1800s. See summaries of previous years' trips to northeast Kansas and northwest Missouri. >>>
Completing a promise made last year, the 40-year archives of the annual Laughery family reunion of Delaware was added to Minerd.com. It is the fourth reunion web-archive of a major family branch on the site (which includes Minerd-Miner, Harbaugh and Younkin).
~ New Civil War Book Published ~

Did Walt Whitman give Ephraim Miner a blank diary book to use?
Minerd.com was very active in the past year promoting the new Civil War book, Well At This Time: The Civil War Diaries and Army Convalescence Saga of Ephraim Miner of the 142nd Pennsylvania. Authored by this website's founder Mark Miner, the book is lushly illustrated with more than 100 images of diary scans, rare family photos and Civil War scenes.
The book chronicles the war experience of Ephraim Miner, of Somerset County, PA, whose eardrums were shattered and feet frostbitten at his one and only battle, in Fredericksburg, VA. Too injured to serve in active duty, but not maimed enough to be sent home, Ephraim then spent more than two-and-a-half years languishing in the Army's ill-prepared health care and rehabilitation system.
In his diaries, for the years 1864 and 1865, Ephraim writes about the Battle of Fort Stevens in the District of Columbia; his joy at receiving letters from home and occasional visits from relatives; his reaction to the assassination of President Lincoln; and much, much more. It is entirely possible that Ephraim's diary may have been a gift from the famed poet Walt Whitman, who was an army nurse during the war, at the same hospital and at the same time Ephraim was there, and who was in the habit of giving cheap pocket diaries to convalescing soldiers.
More about the soldier, the book and how to order your copy. >>>
~ Well At This Time Talks and Signings in 2011-2012 ~
April 25, 2012 - Smithfield Library Reading Circle, Smithfield, PA
April 11, 2012 - Civil War Round Table, Scottdale, PA
April 2, 2012 - Annual meeting, Historical and Genealogical Society of Somerset County, PA
March 14, 2012 - Civil War Round Table, Butler, PA
Jan. 23, 2012 - Greater Pittsburgh Civil War Round Table, Hampton Township, PA
Dec. 3, 2011 - 10th Annual Holiday Book Fair of the Heinz History Center in Pittsburgh, an affiliate of the Smithsonian Institution
Nov. 15, 2011 - Beaver Area Heritage Foundation, Speakers Series, Beaver, PA
Sept. 10, 2011 - Bridgewater Bookfest 2011, Beaver, PA
~ Family Reunion Focus: Civil War's 150th Anniversary ~
Another major focus in 2012 for Minerd.com was to promite our national reunion marking the 150th anniversary of the Civil War. One hundred cousins gathered over the weekend of June 24-25-26, 2011 to honor the extended Minerd-Minard-Miner-Minor family's extensive role in the American Civil War, with 107 cousin-soldiers honored for their service. Many new cousins came for the very first time.
The traditional Saturday picnic, held at the Indian Creek Valley Community Center near Indian Head, PA, featured a daylong campout by the Sons of Union Veterans and Ladies Auxiliary based at the historic Mount Union Church in Somerset County, PA. Also on Saturday, re-enactor Bill May arrived in full uniform and gear, giving a one-man portrayal of a Union soldier on his way home from the front. His popular talk, entitled "A Visit from a Civil War Soldier," is based upon the actual diaries of his own great-grandfather who lived in Butler, PA.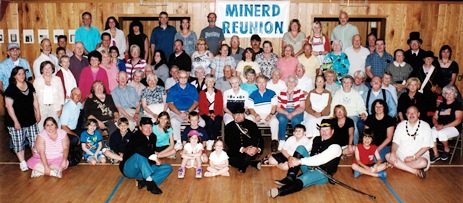 Above, our reunion group honoring 107 Civil War soldiers in the family. Below, licensed battlefield guide Tim Smith gestures at Gettysburg at the spot where Cyrus Lindley and the 140th Pennsylvania saw action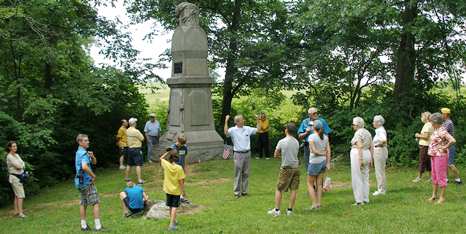 On Sunday, a caravan of cars drove from Donegal to Gettysburg, where 25 cousins took part in a tour of the battlefield, led by licensed guide Tim Smith. We went to the Pennsylvania Monument to see the names of cousins marked in bronze for eternity to memorialize their personal service at the great battle. Smith also escorted us to spots on the field where cousins' regiments are known to have served – the 142nd Pennsylvania Volunteer Infantry (Martin Miner, Andrew Jackson Rose), 140th Pennsylvania Volunteer Infantry (Cyrus Lindley) and the 7th West Virginia Volunteer Infantry (James Eyster Murdock).
Research late in 2011 identified eight more Civil War soldiers from east-central Pennsylvania -- Levi Miner (11th Pennsylvania Infantry), William H. Miner (132nd Pennsylvania Infantry), Franklin C. Miner (6th Pennsylvania Infantry), Franklin Charles Wintermute (132nd Pennsylvania Infantry), Abiel W. Heilman (1st Pennsylvania Volunteers and 5th Pennsylvania Militia Infantry), Alexander Mills (132nd Pennsylvania Infantry), James Meighan (202nd Pennsylvania Infantry) and Jeremiah Meinder (48th Pennsylvania Infantry).
~ Photo of the Month Recap ~
~ Public Outreach and News Media Coverage ~
For the second year, I used Facebook to promote new webpages and features on Minerd.com and promote our reunion. Hundreds of cousins and friends follow the site on Facebook, and this technology has proven to be a tremendous way to reach out to cousins near and far. Click for my page. >>>
During the year, a number of journalists, writers and authors utilized Minerd.com content for their stories. This resulted in stories in the Bellingham
To more proactively share Minerd.com's story to our cousins and the public, I completed a second year of emailing the "Photo of the Month" as a newsletter to a large number of cousins. Also included in this monthly distribution are leading museums, research libraries, news journalists, economic development officials and business colleagues. If you would like to be added to (or removed from) this newsletter list, please contact me.
~ Minerd.com in the News ~
Dec. 2011 - A book by Donna Murray Allen, The Murray Family of Fayette County, PA, 1799-1999, devotes three pages to the tragic story of Elijah and Hannah (Minerd) Murray. She writes that "I feel their story is a vital one to include in this family history. By doing so, it keeps their memories alive. And it will help future researchers with their arduous task." >>>
Nov. 17, 2011 - In an online review of Well At This Time, Paul Taylor of the Civil War News says that the book provides extensive illustrations and context for the diaries, and a "truly admirable telling" of Ephraim Miner's story. Full text >>>
Nov. 4, 2011 - At the 23rd annual conference of the Braddock Road Preservation Association, at Jumonville near Uniontown, PA, speaker Joan Mancuso recognizes Minerd.com for making available its archive of images of Braddock's Grave. >>>
Oct. 3, 2011 - In an article headlined "Whatcom County Linked to 'Deep Secret' About Lt. Col. George Custer's Brother," the Bellingham (WA) Herald tells the story of local man Phil Dyer's efforts to know more about Rebecca (Minerd) Behme Kearns, buried in the Enterprise Cemetery in Washington State. >>>
July 5, 2011 - The Uniontown Herald-Standard publishes a major feature story, headlined "Minerd Family Had Big Presence in Civil War," and says that "For most people, a family reunion probably means catching up with out-of-touch cousins," writes Janelle Sheetz. "The Minerd reunion is a little bit different..." Link >>>
June 13, 2011 - In a major feature article, "Reunion to Trace Minerd Family's Rich Role in History," the Pittsburgh Tribune-Review leads with quotes from cousin Jay Cramer on how he "wasn't much interested in his family's roots until he learned how deep they go." >>>
May 26, 2011 - A post on the blog of Robert Morris University -- "Robert Morris Rides to D.C. - Day One" -- draws from Minerd.com's biographies of Catherine (Harbaugh) Rowan and her sons, who served in the Civil War. Writes Valentine Brkich from a stop at Ohiopyle, PA: "As I ride through this sleepy little town, people all around me biking and hiking and braving the rapids of the Yough, I think about the sacrifices made by the Rowan/Harbaugh family almost 150 years ago, and it makes me appreciate how truly lucky I am today." More >>>
Feb. 24, 2011 - On his Short Stories About Real People blog, Rick Minerd writes that "Minerd.com details some amazing historical facts about [the Minerd] side of my earliest roots...." More >>>

Frank Gary
~ A Look Ahead, and a Heart-felt Thank You! ~
Looking ahead, I am pleased to announce that thanks to his loving daughter and family, the late Frank Ferling Gary (1918-2004) will be memorialized in February, the month of his birth, and Minerd.com will be dedicated to his memory. Frank was the son of
Jacob and Minnie (Miner) Gary
of Somerset County, PA, and I had the privilege of meeting this gracious gentleman at several Gary reunions in the 1990s in Rockwood, PA. Rest well.
One of the most remarkable discoveries of 2011 was a trove of 150 pages of heart-tugging letters found in Medicine Lodge, Kansas, written during the latter half of the 1880s, exchanged between sisters Nettie (White) Bailey of Kansas and Helen (White) Clark of Missouri. One such letter was half-finished the day Nettie was killed in a freak lighting accident. Typescripts of these letters are held at the Lincoln Library in Medicine Lodge, with the originals preserved in the Kansas State Historical Society in Topeka. I will be coordinating closely with Nettie's great-granddaughter Janet (Hoyt) Sperry to evaluate whether these letters should be published in some way to keep these ancient voices alive for more of the public to appreciate and enjoy. [The story of how Janet and I met is amazing, indeed, and will be added to this website in the new year.]

Mark Miner
Now into Minerd.com's 12th year online, this work continues to be deeply fulfilling, surprising and eye-opening. Thank you again to everyone who has contributed your special part from your own family's trove of family treasures. This site is for you, and would not be possible without you.
Sincerely,
Mark A. Miner,
Founder, Minerd.com
January 2012