Home

2012 Annual Review
A Report for Family and Friends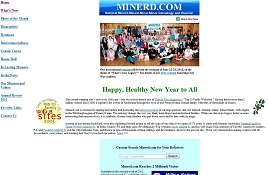 Minerd.com homepage -- January 2013
As one of our cousins says of Minerd.com, "More than anything, I am always amazed at the reach of one family into so many pieces of important American history."
And so nearing the completion of its 13th year online, and unlike any other known freely accessible source, the award-winning Minerd.com continues to grow and uniquely capture the sweep of Americana. It does so by chronicling the collective experience of an estimated 50,000 branches of a single Pennsylvania German family, with its ancient roots dating to the 1790s in regional Pittsburgh and Southwestern Pennsylvania.
In January 2012, the site received its 2 millionth visitor, and by year-end, it had surpassed its 1,400th biography and 10,000th image. The site now has 1,435 individual biographies and 10,700 rare, historic images, an encyclopedic collection of material about one pioneer family available nowhere else.
More than 800 images and some 48 biographies were added to Minerd.com in 2012 in addition to many new feature pages and hundreds of revised or expanded pages. Text and images from the site have been re-used or promoted on radio, television and in newsprint, as well as freely shared for use by other cousins on their sponsored pages on Ancestry.com and Find-A-Grave websites. Through the Minerd.com monthly e-newsletter and regular postings on Facebook and LinkedIn, the site reaches many hundreds if not thousands of cousins and friends on a regular basis.
The site received 242,854 visits in 2012, up a remarkable 12.2 percent from the year before, and averaged 20,238 visits per month, demonstrating continuing public popularity. Overall, since its launch on May 7, 2000, the site has received a grand total of 2.23 million visits.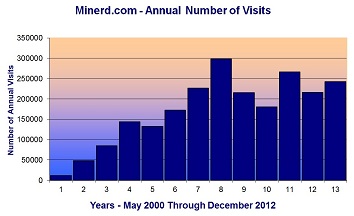 Number of annual visits since original launch in May 2000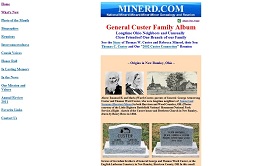 Most popular Minerd.com page in 2012 --
"General Custer Family Album" - link
~
Most Popular Pages ~
The most popular pages on Minerd.com in 2012 were Custer Family Photo Album, In Lasting Memory, What's New, Favorite Links, Photo of the Month, In the News, Reunions, Interconnectedness and Honor Roll. Other popular features included Coal, Coke & Steel, War on Terror Prayer Page, Pittsburgh 150, Patricia Walker's "Erase Me O'Lord" poem, National Road, Laura (Brown) Barnum's "Run of 1889" memoir, Wartime Military Casualties, Early Minerd-Miner Reunions and Younkin Reunion Archives of the 1930s.
Of the site's 1,400-plus biographies, the most visited ones were the following: Thomas C. Custer, Jacob Minerd Sr., Rebecca Behme Kearnes, Friedrich Meinert Sr., Orlan Lloyd Miner, Andrew Minerd, Rev. William Mullen Minerd, Ephraim Miner and William Henry "Squire" Miner.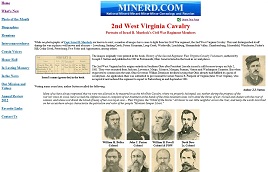 New feature: "Israel Murdock and the 2nd West
Virginia Cavalry in the Civil War" - link
A number of new or expanded features during the year included Israel B. Murdock and the 2nd West Virginia Cavalry in the Civil War – West Penn Power and Railways: Steady Employer for Many Branches of Our Family – Early Minerd Reunions of Western Pennsylvania - 1913-1932 – Cousin Voices – Tom Custer's Legacy in American Pop Culture – Online Quilt Museum – Annette Hanshaw: Paper Artifacts of Her Singing Career – Christian Church of Turkeyfoot – The Much Married Minerd-Miner and Mayle-Male Families – Annabelle Nabors Buchanan: "A Survivor's Story of Childhood Tragedy" – 115 Civil War Soldiers in the Family – and much, much more.
Not all of the content is happy or positive. New material added to Minerd.com in 2012 includes stories of moonshiners, bigamists, thieves and even suicides and killers. Above all, we seek to balance the need to chronicle accurate family history information with the sensitivities and privacy protection of the living generations.
~ Relentless Pursuit of New Research ~
As always, Minerd.com would not maintain its relevance without continuing exhaustive research and contributions from many scores of cousins at large. Online research sites such as Ancestry.com, FamilySearch.org, FindAGrave.com, Google News, Google Books, GenealogyBank.com and ChroniclingAmerica.loc.gov provided truly vast, almost limitless sources of original, primary material. Discoveries on these sites opened all new avenues of learning about the thousands of branches in our clan. Ancestry.com is an especially phenomenal tool.
The year also included research trips to the National Archives and Library of Congress in Washington, DC and to West Virginia University's West Virginia Collection. Unfortunately, due to illness, cousins Eugene Podraza and Mark Miner did not make their 21st annual research trip, planned for Iowa, but hope to do so this year.
Sadly, since we began tracking on July 1, 2000, the family has lost some 979 cousins, with many more not yet identified, all recorded as known on our special webpage, "In Lasting Memory." Revised estimates are that we lose a cousin or spouse once every 4.18 days on average.
~ Photo of the Month Recap ~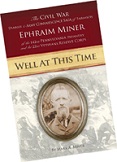 My new book
~ Public Outreach and News Media Coverage ~
Thanks in part to publication of the book Well At This Time: the Civil War Diaries of Ephraim Miner (Minerd.com Publishing, LLC, 2011), the Minerd.com website received a significant amount of public and community exposure the past year. As well, Minerd.com continued its ongoing promotional joint venture with VisitPittsburgh.com to remind our extended cousins around the globe that their ancient roots run deep in Southwestern Pennsylvania.
To more proactively share Minerd.com's story to our cousins and the public, I completed a third year of emailing the "Photo of the Month" as a newsletter to a growing number of cousins. Also included in this monthly distribution are leading museums, research libraries, news journalists, economic development officials and business colleagues. If you would like to be added to (or removed from) this newsletter list, please contact me.
~ Minerd.com in the Public Eye ~
Dec. 23, 2012 - Reporter Len Barcousky of the Pittsburgh Post-Gazette's "P-G Video" interviews Minerd.com founder Mark Miner in "Eyewitness: Fredericksburg Memoir." More than 30 rare historic images from the Minerd.com Archives -- prints, photographs and diary pages -- are used as illustrations in the segment, edited by Melissa Tkach. 8:51 minutes - View the clip >>>
December 2012 - A vintage image from the Minerd.com Archives -- showing the Civil War battle of Missionary Ridge -- is used in a U.S. history documentary television show, "American Ride," broadcast on BYUtv.com, a service of Brigham Young University. The segment is entitled "The Price of Honor." View the clip and see the image at minute 13:16 >>>

November 2012 - Two rare French & Indian War images from the Minerd.com Archives are used in the 2013 Calendar of the Braddock Road Preservation Association -- the "Defeat of Braddock" and "Braddock's March" prints. Several of our cousins have actively helped maintain Braddock's Grave and Fort Necessity landmarks. More >>>

November 2012 - Minerd.com and its biographies of William Minerd, his daughter Rachel (Minard) Mayle and their offspring of Barbour County, WV and Jefferson County, OH, are cited as source material for Terri Mayle's new e-book, The Mayle's of Brilliant, Ohio: The Lost Family.
June through December 2012 – Presentations at the annual Bridgewater BookFest in Beaver, PA; North Boroughs Rotary Club of Pittsburgh; Fayette County (PA) Genealogical Society; Northland Public Library of Pittsburgh and a display at "Books in the Burgh," the 11th annual book fair of the Senator John Heinz History Center in Pittsburgh.

May 9, 2012 – Jack Trammell of America's Civil War magazine reviews Well At This Time, saying that the book "does a solid job bringing together diverse pieces of information to paint a picture..." and that soldier Ephraim Miner's "voice does come through, in large part because [the author] has done his homework and walks readers through Ephraim's experience.... As a result, Ephraim is real to the reader." [ link to full text ]
April 22, 2012 - The Connellsville Daily Courier publishes a review of Well At This Time, headlined "Book Records Civil War Stories," and says that soldier Ephraim Miner "was a man of few words, but recorded that his legs pained him very much, he was lonely on a Sunday and he was not any better." Link >>>
April 2012 – Copies of Well At This Time authored by Minerd.com's founder are placed on sale in the gift shop of the Senator John Heinz History Center in Pittsburgh, an associate of the Smithsonian Institution; and in the gift shop of the Historical & Genealogical Society of Somerset County, PA, administered in partnership with the Pennsylvania Historical and Museums Commission.

April 2012 - A lengthy review of Well At This Time, by military historian David Neville in the Spring edition of the Western Pennsylvania History magazine of the Senator John Heinz History Center (an associate of the Smithsonian Institution), concludes that: ... one will not find stirring accounts of battle, but entries that describe day-to-day life of a young man who continued to serve his country despite being hobbled by illness and a battle injury...." Full text >>>

March 31, 2012 - Paper artifacts from the Minerd.com Archives are displayed at the Beaver (PA) Area Heritage Museum, as part of the "Civil War in Pennsylvania" exhibit created in partnership with the Senator John Heinz History Center. More >>>
Feb. 25, 2012 - The Rob Pratte Show, airing on News Radio 1020 KDKA in Pittsburgh, features an hourlong interview for early birds. Listen >>>

Feb. 5, 2012 - In its popular Sunday full-page feature, "The Next Page," the Pittsburgh Post-Gazette publishes a guest column authored by Minerd.com's founder entitled "The Poet and a Farmer in Fredericksburg: Walt Whitman and My Uncle in a Civil War Hospital." Full text >>>

Jan./Feb. 2012 - In the feature article "Newnan and Senoia Had Telegraphy Schools in Early 1900s," author W. Winston Skinner of Georgia's Newnan Coweta Magazine uses content about Marshall "Ellsworth" Rowan to illustrate a story about the old Southern School of Telegraphy -- a photo of Rowan in the telegraph office of the old Baltimore & Ohio Railroad in Bidwell, PA, and a worksheet from the school with some of his original handwritten notes.
January through June, 2012 - Presentation at the Greater Pittsburgh Civil War Round Table; Civil War Round Table of Erie, PA; Civil War Round Table of Butler County, PA (see its newsletter); annual meeting of the Historical & Genealogical Society of Somerset County, PA; Civil War Round Table of Scottdale, PA; Fayette County (PA) Library System Reading Circle;
~ Family Reunion Focus: "What's Your Legacy?" ~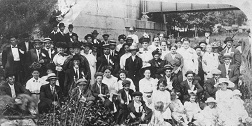 1st Minerd Reunion 100 years ago,
in August 1913, at Ohiopyle, PA
Over the weekend of June 22-23, 2013, our National Minerd-Minard-Miner-Minor Reunion theme will ask the question, "What's your legacy?" We'll explore what our gifts to future generations might be in the areas of the written word, of charity and health, and of prayer.
The traditional Saturday picnic will be held at the Indian Creek Valley Community Center near Indian Head, PA. It's just a few miles' drive from the Donegal Exit of the Pennsylvania Turnpike (Exit 91), and a two-hour drive from the Pittsburgh International Airport. It's also just a few miles from the mountainous farm where our pioneer-Revolutionary War ancestors Jacob and Maria (Nein) Minerd Sr. settled in 1791.
This gathering will be the 100th anniversary of the first Minerd Reunion held nearby in Ohiopyle in August 1913. More details to come.

Mark Miner
~ A Look Ahead, and a Heart-felt Thank You! ~
Now into Minerd.com's 13th year online, this work continues to be fascinating, surprising, eye-opening and never ever dull. Thank you again to everyone who has contributed your special part from your own family's trove of family treasures. This site is for you, and would not be possible without you.
Sincerely,
Mark A. Miner,
Founder, Minerd.com
January 2013